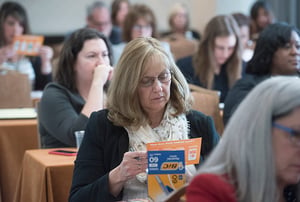 Arlington, VA - Child Care Aware® of America (CCAoA) in partnership with local Child Care Resource and Referral (CCRR&R) agencies, with support from the W.K. Kellogg Foundation, will launch a new initiative to improve access to accurate information about quality early childhood education and care, particularly to and for low income families.,
With the increased focus on reaching low income and vulnerable families as addressed by the Child Care and Development Block Grant (CCDBG) reauthorization, and revisions to Head Start's Performance Standards, Child Care Aware® of America will utilize its network of over 400 CCR&R agencies to help families from diverse backgrounds find and be informed consumers of quality child care.
The two year grant from the Kellogg Foundation will provide Child Care Aware® of America an opportunity to increase its understanding and capacity to develop effective communication strategies that will meet the early care needs of vulnerable families.
The new funding from the Kellogg Foundation will support:
obtaining a deep understanding of the child care information needs of families from diverse backgrounds and identify the best vehicles and formats for delivery and receipt;
enhancing the capacity of CCR&Rs by developing customizable tools to efficiently and effectively provide child care consumer information to all families;
increasing the understanding of best practices and application of child care consumer education targeting tactics for diverse populations for the establishment of clear, measurable CCR&R quality assurance activities.
"This new partnership with the Kellogg Foundation supports one of the strategic priorities established in our new three-year Strategic Plan - serving as the leading source of information for families on how to select and find quality child care," said Lynette Fraga, Ph.D., Executive Director. "With this new funding, we will make even more advances by enhancing the capacity of our nationwide network of CCR&Rs to help disseminate customized child care education information to vulnerable families," Fraga concluded.
About Child Care Aware® of America
Child Care Aware® of America is our nation's leading voice for child care. We work with state and local Child Care Resource and Referral agencies (CCR&Rs) and other community partners to ensure that all families have access to quality, affordable child care. To achieve our mission, we lead projects that increase the quality and availability of child care, offer comprehensive training to child care professionals, undertake research, and advocate for child care policies that improve the lives of children and families. To learn more, visit usa.childcareaware.org. Follow us on Twitter @USAChildcare and on Facebook at facebook.com/usachildcare.
About W.K. Kellogg Foundation
The W.K. Kellogg Foundation (WKKF), founded in 1930 as an independent, private foundation by breakfast cereal pioneer, Will Keith Kellogg, is among the largest philanthropic foundations in the United States. Guided by the belief that all children should have an equal opportunity to thrive, WKKF works with communities to create conditions for vulnerable children so they can realize their full potential in school, work and life. The Kellogg Foundation is based in Battle Creek, Michigan, and works throughout the United States and internationally, as well as with sovereign tribes. Special emphasis is paid to priority places where there are high concentrations of poverty and where children face significant barriers to success. WKKF priority places in the U.S. are in Michigan, Mississippi, New Mexico and New Orleans; and internationally, are in Mexico and Haiti. For more information, visit www.wkkf.org.