"We know that right now during the first three years of life, a child born into a low-income family hears 30 million fewer words than a child born into a well-off family. By giving more of our kids access to high-quality pre-school and other early learning programs, and by helping parents get the tools they need to help their kids succeed, we can give those kids a better shot at the career they are capable of, and a life that will make us all better off." – President Barack Obama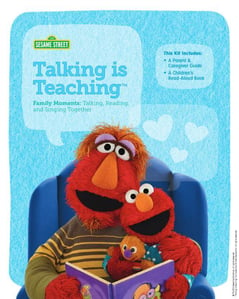 Research has proven time and again that talking to children, especially when they're still too young to speak, gives them a leg up when they reach school age and beyond.
Talking to children and encouraging them to engage in discussion using the words they do know will help them grow their vocabulary and set the pace for their educational development moving forward.
Health and Human Services, Department of Education, and Too Small to Fail have just launched a new toolkit for families, providers and health professionals to help them engage children in speech: Talking is Teaching: TALK, READ, SING TOGETHER EVERY DAY!
The materials come in English and Spanish and were completed in partnership with Sesame Workshop and the American Academy of Pediatrics, and they include a roadmap of speech milestones for children birth to age five so parents and caregivers know what to look for in speech development.
Check out their milestone road map online, and then download these amazing tools to start engaging the children in your care in language growth – then share these resources with the parents and providers in your community!