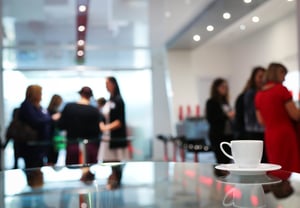 We know professional conferences can be long and often times exhausting; learning can be hard work, right? Not at Symposium 2016! We want to make sure you take advantage of your down time here in Washington, D.C. to not only network with child care leaders, but enjoy some music, grab a healthy snack, and just catch up on your emails or master Candy Crush.
Here are a few of the highlighted special break opportunities you can check in on between your conference sessions if you need a moment to unwind:
Sunday, April 3, 6:00 – 8:00 p.m.
Join us for a private VIP Reception, sponsored by Kaplan Early Learning Company, to network with the CCAoA Board of Directors and Executive Director, as well as members of our Membership Council and State Network Council. Join us for drinks and hors d'oeuvres.
Monday, April 4 and Tuesday, April 5, 6:30 a.m. – 6:00 p.m.
Looking for a spot to connect with a colleague or answer a few emails between sessions? Join us in the Cyber Café and Networking Lounge sponsored by Community Playthings.
Monday, April 4 and Tuesday, April 5, 6:30 a.m. – 6:00 p.m.
If you're looking for a little rejuvenation between sessions, stop by the Health & Wellness Lounge, sponsored by American Heart Association, for a little R&R. Free chair massages and yoga classes, along with a few other surprises will be offered throughout the two days.
Monday, April 4, 5:30 – 7:00 p.m.
Child Care Resource Center is sponsoring a Networking Reception featuring live jazz music by two recent graduates of D.C.'s own Duke Ellington High School of the Arts! Unwind after your first full day of sessions with your fellow attendees over light hors d'oeuvres.
Sponsored by: