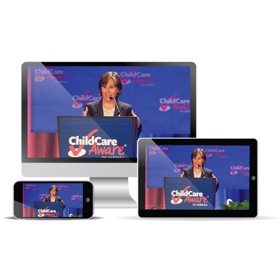 Updated April 7, 2016 - Symposium is over, but if you want to watch (or rewatch) the plenary sessions, you can do so by registering online!
Child Care Aware® of America is pleased to offer livestreaming as part of this year's Symposium 2016. This upcoming event will address the hottest topics in research, policy, and practices of interest to the early child care and education community.
Individuals who are not able to attend this premier event in Washington, D.C. will now have the opportunity to virtually attend all seven plenary sessions for $199. Virtual conference attendees will be able to view live plenary sessions and have access to recordings of these sessions after the event.
We encourage those who have already registered for the event to consider purchasing a virtual conference pass for other colleagues or team members who are not able to attend in person.
Livestreaming will include the following plenary sessions.
Monday, April 4
Keynote Address: Active Implementation to Improve Child and Family Outcomes (8:30 a.m. – 10:00 a.m.)
Keynote Address: Early Experiences Elevate Everything: How the Early Years Influence the Life Course (12:40 p.m. – 1:45 p.m.)
Panel Discussion: Child Care Around the Globe: International Perspectives on Early Childhood Systems Building (4:00 p.m. – 5:30 p.m.)
Tuesday, April 5
Keynote Address: Preschool Expulsions: Implications and Policy Solutions (9:00 a.m. – 10:00 a.m.)
Panel Discussion: Administration for Children and Families: Final Months of the Obama Administration (12:40 p.m. – 1:30 p.m.)
Panel Discussion: Parents and the High Cost of Child Care: Implications for Quality, Data, and Policy (4:00 p.m. – 5:30 p.m.)
Wednesday, April 6
Keynote Address: Day on the Hill Kick Off with Wendy Davis