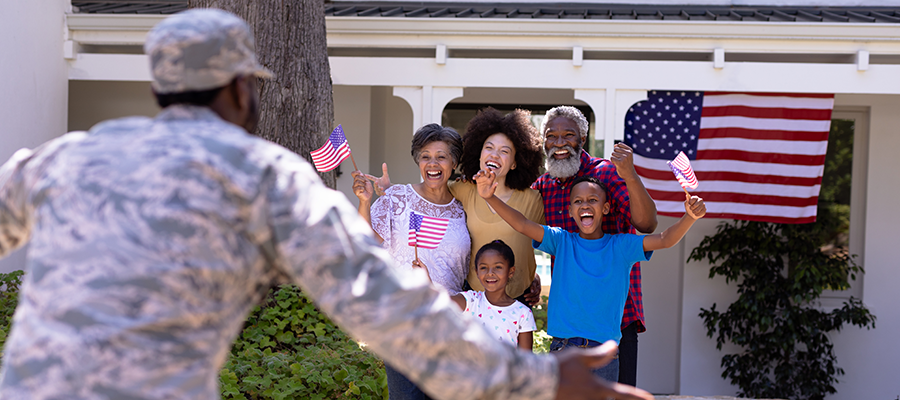 Every year, 600,000 military-connected families and children move around the country. The average military family moves three times as often as their civilian peers, and the majority of these "permanent change of station" (PCS) moves take place during the summer. Finding access to quality, affordable child care is an essential component of a smooth transition.
Blue Star Families, Child Care Aware® of America (CCAoA) and local Child Care Resource and Referral agencies (CCR&Rs) are determined to help military children all over the country feel welcome. That's why Blue Star Families created Blue Star Welcome Week, an initiative to recognize the active-duty and transitioning military families and their children who move to new communities each year. This year, the initiative is celebrated September 24 – October 2 and CCAoA is proud to be an official partner.
During Blue Star Welcome Week, Blue Star Families and Child Care Aware of America's goal is to proactively improve military families' sense of belonging to their local communities by forging strong connections between military family members and their civilian neighbors, with an emphasis on identifying child care support for military families.
While more than 70% of military families live off-base in their local civilian communities, many do not feel a strong sense of belonging to those communities. In addition, nearly one-third of active-duty family respondents to the 2021 Military Family Lifestyle Survey noted that child care is regularly needed.
What Can CCR&Rs Do?
There are several ways that CCR&Rs can play an active, supportive role during Blue Star Welcome Week:
Share

Welcome Week resources

with child care programs within your community, and community partners such as the local library or food bank.

Post Welcome Week signage at your agency.

Share

Welcome Week resources

via your website, social media, and/or newsletter and print materials.
Visit Blue Star Welcome Week - Welcome Week | Blue Star Families to learn more, find helpful resources and show your support.
How CCAoA Serves Military Families
Child Care Aware® of America (CCAoA) is proud to partner with the United States Military and Department of Defense to serve and support families through the Military Child Care in Your Neighborhood (MCCYN) Fee Assistance and Respite Child Care Programs , In-Home Child Care (IHCC) fee assistance pilot program and MCCYN-PLUS initiative (includes community child care programs that are quality rated by their state Quality Rating and Improvement System (QRIS). To learn about child care supports for military families, visit our website.
Exceptional Family Member (EFM) Respite Care, a no-cost benefit for eligible Navy families throughout the United States, provides families with 40 hours of respite care per month from a trained and background-screened provider. Respite child care allows parents the opportunity to rest and rejuvenate with peace of mind, knowing their children are well cared for. Read about respite care and Navy families' appreciation for their respite care providers.