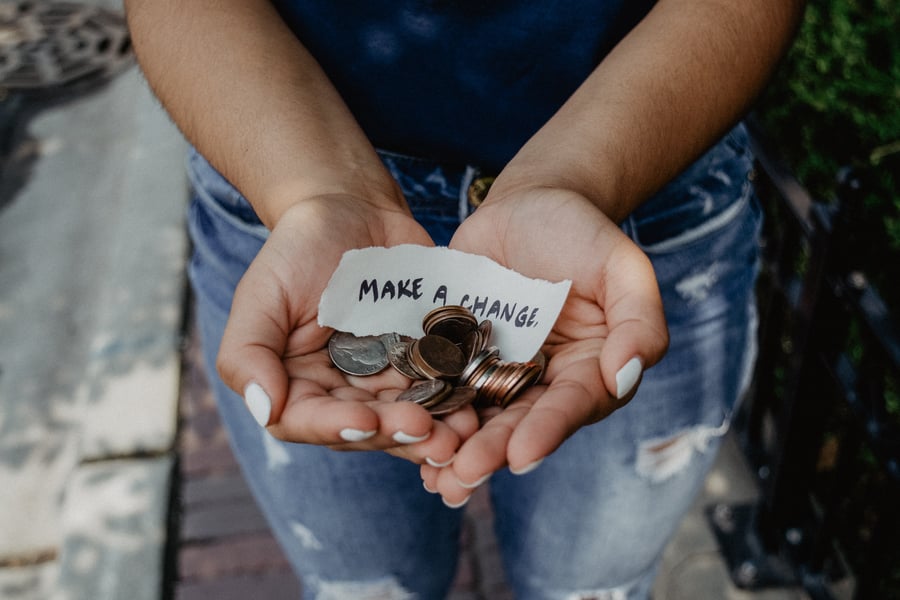 Massachusetts was in search of more funding for its Child Care Resource and Referral (CCR&R) agencies after a massive cut to their budget line in 2010. Since then, CCR&Rs in the state have had to continue to do their critical work of managing cases, providing referrals and subsidies and more, despite a 16% increase in workload and decreased funding.
Child Care Aware® of America's (CCAoA) advocacy team worked with our friends at the Massachusetts CCR&R to help them launch a new digital action center on their network website and come up with an actionable alert and email to share with their appropriate email list. Their goal was to restore the previous funding cut and bring the budget line item for CCR&R work back up to full funding.
The additional $2 million requested was a big ask, but by bringing in their state's providers, partners, and parents across the state, they were able to really boost their issue to the forefront for their state legislators.
How did they accomplish this?
The team sent a series of three emails to their lists, targeting various groups of legislators at different points in the state budgeting process:
The first email was sent to the Massachusetts CCR&R's list of providers and families, asking them to contact their state legislators about adding $2 million to the FY 2019 budget to suppose CCR&Rs. This action was directed at all state legislators and explained the existing budget constraints on CCR&Rs and the work they do. This was their first-ever action alert email, and It garnered a 12% open rate. Not bad!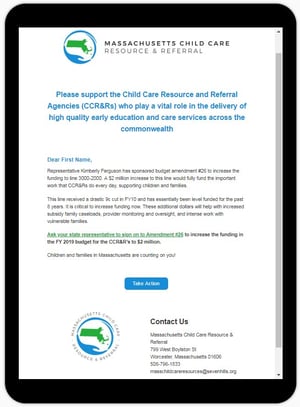 The second email (see picture) was sent to the same recipients (Massachusetts providers and families) and asked legislators to support Amendment #26, which was introduced in the Senate after the first email campaign. This amendment to the budget officially requested the $2 million in addition to the line item serving CCR&Rs and the work they do. This email had a 28% open rate, which is above average for nonprofits—more than doubling the rate from the first campaign!
For the final email in the campaign, we sent again to the full list of families and providers. We targeted state House lawmakers for action by constituents this time, urging them to incorporate Senate Amendment #26 into their version of the budget during the conference process. This email had a 35% open rate. A huge success!
How did it work?
When all was said and done, more than 3,000 messages were sent to lawmakers from advocates across the state. That's a lot of advocates for a brand-new action center! The CCR&Rs in Massachusetts recently learned their funding ask was fully granted, in part due to this huge advocacy initiative.
This money will go a long way to help manage cases, provide child care referrals, and toward the other important work they do across the state.
Want to ramp up your organization's advocacy? Join the Child Care Works team for their
! Sign up for the topics you're most interested in, or watch recaps and get resources from past webinars.