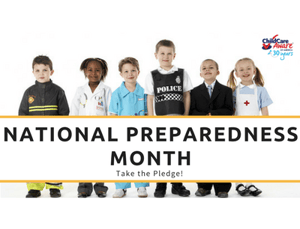 In September we celebrated National Preparedness Month, and with it the beginning of hurricane season. Our emergency preparedness team has been hard at work, connecting with parents and child care providers and proving support, tools, and resources to those impacted by Hurricanes Harvey, Irma, and Maria. Child Care Aware® of America is also finalizing plans around our thought-leadership event of the year, 2017 Leadership Institute. We look forward to seeing you October 11-13 in Kansas City, Missouri! We are also pleased to announce that registration in now open for 2018 Symposium, our flagship event that addresses the hottest topics in research, policy, and practice in the early child care and education community. Join us for this and our exciting 30th anniversary gala!
Below are some additional highlights from September.
Breaking News
The scale of devastation seen during the last three weeks has been truly historic. Texas experienced never-before-seen flooding levels, Florida was directly impacted by one of the strongest hurricanes to ever exist, and right now Puerto Rico is facing the aftermath of their worst storm in almost 85 years. These incidents have taken their toll on children, families, and child care providers. In Florida, damage spanned nearly 600 miles. There were a total of 23,316 child care programs with the capacity to serve 710,636 children in the impacted area in Florida. In Texas, 58 counties were impacted. There were a total of 3,135 child care programs with the capacity to serve 214,632 children in the impacted area in Texas. Child care providers are often underinsured. In Texas, 78 percent of child care programs surveyed (723 out of 925) stated they did not have or did not know if they had flood insurance.
CCAoA has been assisting the impacted areas in a variety of ways: conducting damage assessments in Florida and Texas, providing coordination with our national and federal partners, and supporting our local child care resource and referral colleagues.
Online and On-Air
CCAoA has developed a series of health and wellness recognition program resources to help states and child care advocates learn more about recognition programs, including:
Information on healthy eating and physical activity (HEPA) recognition programs
A look at which states have or are developing these programs
Policies that support breastfeeding in child care facilities
Resources related to building recognition programs
CCAoA's emergency preparedness team recently launched a Disaster Response and Recovery Webinar Series to help meet CCR&R staff needs. The webinar series will introduce CCR&Rs to partnering organizations who serve in a response/recovery capacity and will provide an overview of resources available to children and families. The webinar series is also designed to help CCR&R organizations better understand their role after disasters. Learn more about upcoming webinars, and register today!
Following the inaugural launch of our Child Care Deserts report in the fall of 2016, CCAoA has been working with several states to take a deeper look at and map their unique child care deserts. Look for the much anticipated release of our deep dive, state-based child care deserts work soon, including the first two in a series of interactive story maps and resources!
Around the Country
CCAoA attends and presents at conferences across the country. Visit our map to see where our subject matter experts will be speaking next! Below are highlights from several recent events.
Senior Director Andy Roszak provided an emergency preparedness train the trainer course for Child Care Aware® of Virginia. The training was very well received, and very timely—as the course took place just before Hurricane Irma made landfall. As recent events have highlighted, preparing for disasters is very important. Child Care Aware of America's Emergency Preparedness Team routinely conducts training programs throughout the country. To schedule a training in your area, visit http://childcareprepare.org
On-site trainings have begun in the four Child Care Works priority states! This month, the Child Care Works team held an advocacy training in Albany, New York, that was focused on engaging, educating, and inspiring new leaders, and honing the advocacy skills of seasoned leaders. Next month, the Child Care Works team will travel to Seattle to join the Child Care Aware® of Washington team and present at their Elevate Conference.
Holly Nett, Community Resilience Manager from CCAoA's emergency preparedness team, led a special facilitated discussion at NARA's 25th Annual Licensing Seminar, which was held in Minneapolis, MN on Sept. 11-13. The facilitated discussion allowed CCAoA staff to learn from child care regulatory leaders about their biggest successes with child care emergency preparedness training, resources and partnership building as well as learning about challenges that the child care industry and regulatory staff face with emergency preparedness, response, and recovery.
On September 12-13, Jay Nichols, Director, Federal Policy and Governmental Affairs, attended and presented at the Biennial National Indian Child Care Association's conference in Tulsa, OK. The two presentations included a summary of current federal policy issues in Washington, DC, as well as a session on becoming effective child care advocates.
Krista Scott, Senior Director of Child Care Health Policy, recently presented at the National Academies of Medicine Population Health Roundtable. She shared the critical importance of ECE as a lever for population health within context of CCDBG reauthorization, and shared our new framework for health in child care. Watch the presentation.
Member Connections
Child Care Aware® of America is an active Task Force member of the work the National Association for the Education of Young Children (NAEYC) is facilitating on Power to the Profession—an important initiative designed to advance the early childhood educator profession—and it is imperative that we hear from our members. Help advance early childhood educators as a more defined, unified, and supported profession. View a recording of a recent virtual focus group, hosted by Child Care Aware® of America and the National Association for the Education of Young Children.
Child Care Aware® of America's Leadership Institute, Growing Momentum toward Breakthrough Solutions, is right around the corner! The 2017 Leadership Institute will facilitate actionable discussions on expanding our collective networks and strengthening our state and local strategic presence. Join us for the child care thought-leadership event of the year on October 11-13, 2017 in Kansas City, Missouri at the InterContinental Hotel at the Plaza. This annual event addresses policy, practice, education, and the future of leadership in the child care resource and referral industry.
Registration is now open for our 2018 Symposium, which will take place April 17-21, 2018 in Washington, DC. We will be celebrating 30 years of working to strengthen a quality child care system. We invite you to purchase a ticket for our 30th anniversary gala, which will include dinner, live music, a live and silent auction, and conclude our 30th anniversary campaign.
ICYMI: September in the News
On September 14, Senator Patty Murray (D-WA) and Representative Bobby Scott (D-VA) introduced the "Child Care For Working Families Act of 2017." The bill, if enacted into law, would provide significant new investment for the Child Care and Development Block Grant, as well as new initiatives to support the child care workforce. Child Care Works, powered by CCAoA, is working alongside our coalition partners to encourage our members and advocates to take action on this important bill.
As part of Child Care Aware® of America's 30th anniversary celebration, we are pleased to share the first in a series of blog posts titled the Dragonfly Diaries. This series is designed to create a forum for thought leaders to spark innovative ideas by positing questions about the challenges and opportunities in finding effective solutions to quality child care for all. Each month's post will include a thought-provoking question that is intended to generate questions, discussion, and actionable solutions as a community. I encourage you to include your comments in the section below this blog post. Read our first blog post on the role emergency response and recovery plays in child care.
Join us for Vroom Week, October 16-20, a time to celebrate the Child Care Aware® of America + Vroom Partnership and how you play an important role in building your child's brain, particularly from birth to age five.
Here's How You Can Get Involved
Follow us on Twitter and Facebook (@USAChildCare), and look for Vroom tips, which will be posted daily the week of October 16.
Post about your Vroom experience using the daily Vroom tip on social media using hashtag #Vroom4theFuture.
Share pictures and videos from your Vroom tip engagements on social media using hashtag #VroomfortheFuture.
Learn more about Vroom week, and look for Vroom tips on social media (@USAChildCare) the week of October 16.