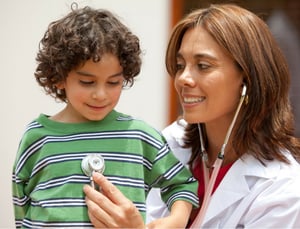 Earlier today, the Senate Majority Leader, Mitch McConnell (R-KY), released a third version of the "Better Care Reconciliation Act of 2017 (BCRA)," that would change or eliminate major provisions of the federal health care law.
Despite efforts made by Majority Leader McConnell to secure enough votes for passage, the latest version of BCRA would still fundamentally change Medicaid and end the expansion program that many states have taken advantage of, capping annual costs for states, and slashing funds by hundreds of billions of dollars over 10 years. If enacted into law, the changes to Medicaid would result in millions of children, including those with disabilities, losing access to care. Currently, Medicaid covers approximately 30 million children, which is 40% of the Medicaid population. In addition, it covers nearly half of all child births.
The latest version also retains the legislative language revoking mandatory and essential benefits, including mental health and maternity coverage, and repeals the individual mandate.
The Congressional Budget Office (CBO) is expected to publish another "score" on BCRA soon. However, Majority Leader McConnell has stated he wants to vote on this bill next week. Therefore, the Senate may vote before the CBO score is finished.
Child Care Aware® of America believes that quality child care means early learning is provided in a healthy environment and helps develop age-appropriate, healthy habits. Access to health insurance for children has long-term positive outcomes, such as reductions in infant mortality, illness and deaths, improved overall childhood health, and reduced disability. Access to health care also improves academic and social emotional success and well-being.