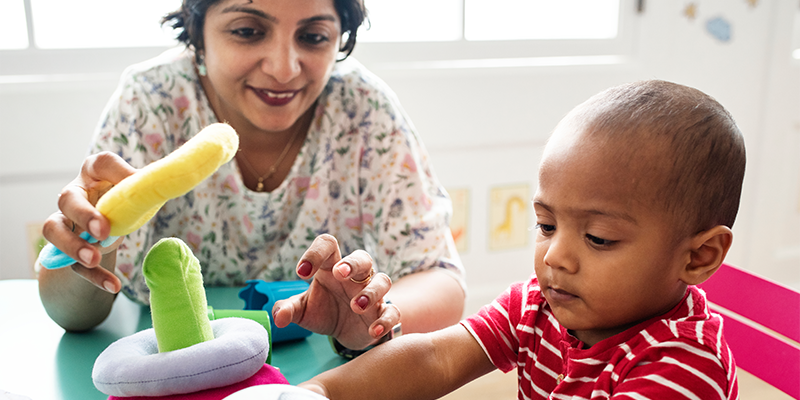 Association Between Early Care and Education Teacher Characteristics and Observed Classroom Processes: Strengthening the Diversity and Quality of the Early Care and Education Workforce Paper Series
Johnson, A., Partika, A., Schochet, O., and Castle, S. Urban Institute (October 2019)
Background: Early Care and Education (ECE) providers play an important role in helping children learn, grow and successfully transition to elementary school. However, when ECE providers are experiencing high levels of stress and financial insecurity, it can affect the overall quality of care they provide. This study looks at whether workforce supports such as paid leave and a sense of teamwork, and teacher experiences, like exposure to trauma or financial stress, impact teacher-child interactions.
Methods: Teachers from 113 pre-K programs in Tulsa, Oklahoma were asked about life experiences, including whether they'd experienced ACEs in childhood, supports they get from their jobs and coworkers, present feelings of well-being, their level of socioeconomic (in)security and their enrollment in any public programs. Afterwards, trained observers watched teachers interact with children. Teachers were graded on two scales that measured classroom management skills and interactions with children.
Results: Providers who said that they experienced more teamwork and had access to workplace supports like breakrooms or healthy living trainings tended to have higher-quality interactions with children. These providers gave better instructions to children on social-emotional skills and peer interactions, and provided more emotional support to children.
The study found that 50% of providers said they experienced some symptoms of depression. Providers experiencing higher levels of depression struggled with classroom instruction. The study authors expressed surprise at two findings:
The quality of teacher-child interactions was not affected by providers' lack of access to healthy foods or enrollment in public programs

like the Supplemental Nutrition Assistance Program (SNAP) or Medicaid.

P

roviders who said that they had a higher quality of life and economic well-being compared to their peers scored lower on classroom quality.
Conclusions: Similar to parents who experience stress and do not have adequate support for their economic, physical and mental wellbeing, ECE providers experiencing these conditions also struggle with having quality interactions with children. However, because of the way the study was created, it is difficult to understand how life experiences and workplace supports affect child-teacher interactions.
Practice Implications
We don't often think of child care as a team environment. But this study shows that feeling a strong sense of team support from colleagues can make a difference in how child care providers interact with children. Center-based programs can incorporate team building activities into regular staff meetings and professional development trainings, while also creating informal spaces for staff to spend time together. At the same time, staff should be encouraged to share their ideas and challenges with one another to brainstorm solutions. They should have the opportunity to shadow one another or spend time in other classrooms to get a better understanding of what their colleagues' work looks like.
Building a sense of team is even harder in family child care (FCC) settings. The long hours and responsibility that comes with caring for children as a single provider can be isolating and make it difficult for FCC providers to feel supported. Family child care networks are a great way to pull FCC providers together and help them build a sense of peer support that they may otherwise be missing. Structuring professional development opportunities in cohorts and setting aside time for team building is another strategy that child care resource and referral agencies can use to help reduce isolation among FCC providers. This can help providers feel more connected, less stressed and ultimately more prepared to handle the challenges of providing child care.
Policy Implications
This study identifies several ways in which supporting teachers and improving their well-being can strengthen child-caregiver interactions, although there weren't as many statistically significant results as the authors expected. A number of policies at the local, state and federal level could better support the child care workforce and, in turn, strengthen those critical interactions between children and their caregivers. Policies that improve the financial stability of the workforce, such as providing living wages and health insurance benefits, could reduce caregiver stress and potentially impact their interactions with children. The authors also identify mental health supports for teachers as an important factor, although we must also make sure providers have paid time off to attend appointments and access mental health care.
It is important to remember that studies like this are only looking at characteristics of quality interactions that can be observed and measured. It is very difficult to measure factors like affection, trust and respect that truly make child-caregiver interactions powerful. So while this study gives us some good information about the types of teacher-focused policies and practices that could improve child care quality, it undoubtedly misses some of those harder-to-measure effects.