Spotlight
Yolanda Gilbert, Dolores' House for Little People, Sheboygan, WI
The Problem
Too many of our children grow up on a steady diet of fast food and inactivity.
The Solution
Model exercise and good-for-you foods.
How She Did It
Yolanda Gilbert was in a thrift store when she spotted a miniature version of a popular fast food restaurant—one that the children in her program know and love. Many of them come from families where the parents work two or three jobs to make ends meet. Often, dinner for these families consists of pizza or a fast food meal.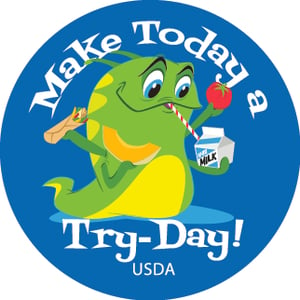 So Yolanda bought the toy restaurant, brought it into her classroom, and stocked it with fruits and vegetables from a toy farm set. Now the "store" has become part of her weekly routine with the older children. Every week, Yolanda presents a lesson from the U.S. Department of Agriculture's "Make Today a Try-Day!" series, which encourages children to sample new foods. Afterward the children play store and buy and sell to one another carrots, squash, corn, grapes, tomatoes, and other healthy foods. And the lunch menu includes one of the foods featured in the "Make Today a Try-Day!" series.
Yolanda is equally passionate about the importance of vigorous physical activity. As soon as they're old enough, the children go on long walks with Yolanda. And at least twice a week, Yolanda holds—and participates in—a dance off competition.
The Results
The children sleep better and behave better when they exercise. They are also more willing to try new foods because we learn about them together.
On Yolanda's Wish List
Almost any form of indoor exercise equipment: mats, hula hoops, nerf balls, exercise videos—and a quarterly massage for herself.