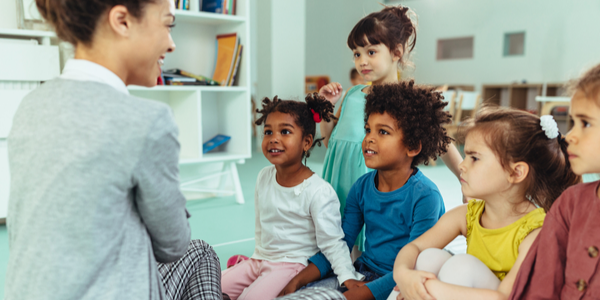 As we approach Provider Appreciation Day® (May 6, 2022) we are highlighting how communities are honoring the contributions of their child care providers. Sign up to be a supporter and get resources to plan your celebration.
National Provider Appreciation Day reminds us to be intentional in our recognition of child care providers. And our recognition should begin with listening to what they have to say. The Center for Public Partnerships and Research at the University of Kansas ( KU-CPPR) works with child care providers through partnerships with state agencies and other organizations to share provider experiences, which are either attributed or shared anonymously in respect to a provider's privacy and preference. With their experiences and stories, we work to amplify a better understanding of the care they provide as well as the impact their care has on their communities. "Caring for others is a choice, a choice we all willingly make," as one provider described the nature of their work. "Many people don't realize the vastness of what it takes to keep a day care in motion."
Despite the U.S workforce struggling from the lack of public child care and the increasing shortage of private child care options, the perception and understanding of child care providers and their work is still far below their impact and contributions. In order to fully appreciate the role child care providers serve in their communities, we must acknowledge the dynamics and challenges inherent to their work. Child care providers give care and attention to children and families. They see families through significant milestones like a child progressing to eating solid foods and through hardships like a family struggling financially from unemployment or health crises.
As essential workers providing a frontline service, their caregiving is immediate and responsive to an individual child or family's needs. But the deeply personal nature of their work makes their business interrelated to the relationships they build with the families they serve. According to KU-CPPR's 2021 Kansas Child Care Licensure Flow Survey, 93% of child care providers indicated that children and families were the bright spots in their child care provider experience. In these bright spots, there are valuable grassroots community networks and resources, and child care providers need the support of their communities to continue service for families.
"The first 10 years in our business appreciation was demonstrated by families making payments on time, honoring contracts terms ... but now family appreciation of our program has evolved into an appreciation based in community," said Kelli Hernandez, owner of Kritter Creek Childcare LLC in Valley Falls, KS. "Many locals are now recognizing the impact of our program and seeing more significance in early childhood programs. We are not just a babysitter or a place to leave your child while working. We provide resources, we provide a network, but in order to support families and the larger community we also need support to sustain our services."
Pakhong Sakounlaphoum, owner of Little Hearts Montessori LLC in Overland Park, KS, credits the cooperative, symbiotic nature of the care she gives and the support she receives from her clients for her four years of business. "Little Hearts Montessori is able to stay open due to parents spreading the word on how my program has made a difference for their children. They refer us and also volunteer to write testimonials, letters of appreciation and reviews on apps like Nextdoor. As a teacher, I believe the mind is more open when the heart is being nurtured, and I've learned that also applies to my business and how I'm able to keep going. It makes me feel proud to not only serve my community but receive their continued support as well," said Sakounlaphoum.
To fully appreciate child care providers and to make the changes they need, we need their voices. Like the families they serve, child care providers should not be left isolated in their own resilience. By making the effort and commitment to listen to what they have to say about the work they do, we can further recognize the impact of their work and skills and truly make appreciation a foundation they can rely on.
Inspired to plan your Provider Appreciation Day ® celebration? Sign up to be a supporter and get resources for your celebration.