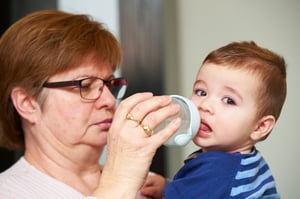 Family Child Care providers, Child Care Centers and parents should take note—the CDC is investigating a major outbreak of E.coli linked to SoyNut Butter.
As the number peanut and other nut allergies in children has risen, SoyNut butter has been adopted as an alternative in child care that have opted for a "peanut-free" environment. The Center for Disease Control (CDC) is currently investigating an outbreak of E. coli that has been linked to I.M. Healthy SoyNut Butter. As of March 21, there have been 23 confirmed cases, and 10 hospitalizations, with illnesses being reported from January 4 to March 5. Twenty of the 23 confirmed cases were children under 18 years of age, with the median age being 8 years-old. Of the 23 confirmed cases, 20 that were reached for interview reported eating I.M. Healthy SoyNut Butter in the week before becoming ill. The company has recalled all varieties of the SoyNut Butter, as well as all varieties of I.M. Healthy Granola products and Dixie Diner's Club Carb Not Beanit Butter.
Child care providers, schools, and other institutions should not serve any of the recalled products, regardless of the date of purchase or the date listed on the container. Even if some of the product was eaten or served and no one got sick, throw the rest of it away.
States with outbreaks reported as of 3/21/17:
Arizona, California, Maryland, Missouri, New Jersey, Oregon, Virginia, Washington, Wisconsin
Learn more information at the CDC website.