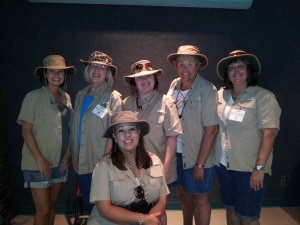 Oklahoma's Child Care Resource and Referral Agency (CCR&R) community kicked off the state's annual leadership meeting in the Oklahoma City Zoo Aquarium Building last month. I was thrilled to be one of the speakers as part of a two-day visit to the state. It was the first time I shared speaking time with a seal, who occasionally appeared in the porthole behind me. The spirit of camaraderie and fun among the attendees reflected what I've seen at the many states I've had the pleasure of visiting during my year since I joined Child Care Aware® of America.
The trip reminded me of the important work these professionals do every day – help families make informed child care decisions for their children.
Big job, changing resources
That's why when I reported on the latest policy news from Child Care Aware® of America, 30 minutes of Q&A followed. We also discussed the future of Child Care Aware® of America and the continued focus on special populations such as immigrants and tribal communities within Oklahoma. I visited local offices and heard their issues, challenges and hopes for Child Care Aware® of America as we all work under uncertain financial resources.
Facing challenges and rising up
My trip also took me to the site of the Oklahoma City bombing memorial. There, nearly 20 years ago, 19 children and 149 adults perished when a truck filled with bombs exploded beneath the child care center's window. More recently, communities in this state experienced deadly tornadoes that destroyed homes and schools. The stories of heartbreak and heroism are numerous, as are the sentiments to support and sustain the community.
On the ground, making a difference
On the second day of my visit I had the opportunity to meet with early childhood professionals from various communities in Oklahoma. I was inspired by their stories of success supporting children and families, the challenges and opportunities they experience and their passion for moving the field forward.
Let's do something!
Every day, each of us can do something to give children their best chance in life.
We can create strong policies, effective programs and educate families about the many possibilities for our children when they get the right start in child care.
I hope you'll join me and the team at Child Care Aware® of America in this journey. If you care about children and our country's economic future, you want to be a part of this movement. Here are three ways to get involved right now:
• Sign up for our monthly e-News to get the latest from the industry
• Share our Facebook page with your friends and family
• Take action at the Child Care Aware® of America policy action center