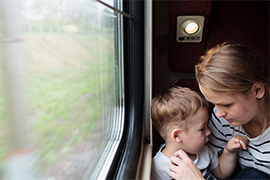 Arlington, VA – Child Care Aware® of America (CCAoA), the nation's leading voice for child care, today announced the release of a comprehensive report Child Care Deserts: Developing Solutions to Child Care Supply and Demand, which addresses the issue of access to high-quality, affordable child care and the increasing gap between child care supply and demand for families across the country.
Similar to the U.S. Department of Agriculture's definition of food deserts—urban areas where it is difficult to find fresh fruit, vegetables, and other healthful whole foods—CCAoA refers to areas or communities with limited or no access to quality child care as "child care deserts." In both situations, the identification of deserts is important because it identifies an absence of an important commodity resulting in limited access that the current systems do not address.
This latest study released by CCAoA represents extensive research including a literature review, focus groups with parents seeking child care, and interviews with key child care leaders across the country. Parents participating in the focus groups described their child care journeys and the factors involved in the selection of their child care providers. Although parents had very different situations from one another, four key commonalities were identified among the participants:
There is an increasing gap between supply and demand of quality, affordable, child care;
Parents make accommodations, not choices, when it comes to child care, weighing a program's perceived quality with its actual cost;
Relationships between parents and providers that are based on trust and good communication are integral to parents' satisfaction with their provider; and
Locating and selecting a child care program can be difficult and frustrating for many parents.
Through interviews with child care leaders, child care deserts were more prevalent in low-income communities, rural communities, among families of color, and among families with irregular or non-traditional work schedules.
The demand for quality child care has grown significantly in previous decades, and a child care system that is adaptable and responsive to a variety of needs is required. Research has shown that high-quality child care is especially important for historically vulnerable and underserved populations;[i] it is important to consider how the demand for child care in these populations varies across communities challenged by child care deserts.
Some of the contextual factors contributing to the increasing demand for child care and areas in which the supply of child care is lacking include:
An increase in women as breadwinners,
Unequal access for minority children,
Desire for culturally and linguistically appropriate child care, and
Nontraditional hours for child care to support nontraditional hours in the workforce.
According to CCAoA Executive Director Lynette M. Fraga, Ph.D., "the goal of the child care deserts report is two-fold—to spotlight child care deserts as a critical issue, and to explore state and system level lessons learned and offer policy recommendations. We will continue to explore this challenge as an important focus of our mission to ensure that all families have access to affordable, quality child care."
To combat child care deserts, CCAoA recommends that legislators at the state and federal level:
Increase funding and resources to child care providers and networks,
Invest in the child care industry's infrastructure,
Adequately support the child care workforce, and
Strengthen community capacity building.
Additional information, resources, and the full report on Child Care Deserts: Developing Solutions to Child Care Supply and Demand can be found at usa.childcareaware.org/childcaredeserts.
About Child Care Aware® of America
Child Care Aware® of America is our nation's leading voice for child care. CCAoA works with state and local Child Care Resource and Referral agencies (CCR&Rs) and other community partners to ensure that all families have access to quality, affordable child care. CCAoA leads projects that increase the quality and availability of child care, offer comprehensive training to child care professionals, undertake research, and advocate for child care policies that improve the lives of children and families. To learn more, visit usa.childcareaware.org. Follow them on Twitter @USAChildCare and on Facebook at facebook.com/usachildcare.
[i] Child Care Aware® of America. (2015). 2016-2017 public policy agenda. Arlington, VA: Child Care Aware® of America. Retrieved 22 August 2016 from http://usa.childcareaware.org/wp-content/uploads/2015/11/FINALCCAoA-2016-2017-Policy-Agenda.pdf.