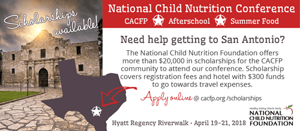 The 32nd annual National Child Nutrition Conference is scheduled for April 19-21, 2018 in San Antonio, Texas. Hosted by the National CACFP Sponsors Association, this conference brings together professionals in the child nutrition community for three days of learning and networking. Over 1,000 participants from nutrition, nonprofit, education, and child care organizations in all 50 states are expected to attend this year. In addition to expert panels and networking sessions, attendees can choose from more than 100 workshops to learn practical skills, discover new resources, and explore their interests. To help ensure that everyone who is interested and invested can attend, the National Child Nutrition Foundation has over $20,000 in scholarships available.
For child care center and home providers, the conference is a great opportunity to:
Discover best practices, recipes, and tips for serving new healthy foods in your program;
Develop innovative ways to teach children about food and nutrition;
Network with other child care and child nutrition professionals in your region;
Explore new ways to make yourself and your staff healthier; and
Grow as a leader by advocating for better nutrition policies, and by educating other child care providers about CACFP.
Click here to hear more about the conference experience from Lupe Villannueva, a 2017 Child Care Provider scholarship recipient and first-time conference attendee.
Fourteen conference scholarships are available for the following groups: Child Care Centers and Home Providers, CACFP Sponsors, Tribal Nations, Head Start programs, Food Banks, At-Risk/Afterschool programs, Summer Food Programs, and School Districts. Each scholarship covers conference registration, four nights at the conference hotel, and up to $300 in travel costs.
Apply for the Scholarship:
If you are interested in learning more about CACFP and becoming a leader in child nutrition, register by December 15 to get the discounted advance rate. For those who want to apply for one of the scholarships, submit your online application by Wednesday, January 24, 2018.