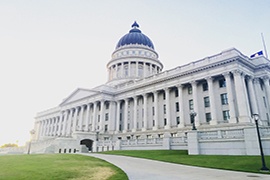 Today, President Trump released his budget request for FY 18, which proposed very harmful cuts to programs that support low-income and working-class families and children, including a cut to the Child Care and Development Block Grant (CCDBG), which serves about 1.5 million income eligible children per month. The proposed cuts will put access to quality, affordable, and safe child care at risk for countless numbers of children.
In addition, severe cuts to Medicaid, the Supplemental Nutrition Assistance Program (SNAP), as well as the elimination of the federal afterschool and child care on college campuses program, would devastate millions of children and families. More importantly, cuts to child care goes against President Trump's commitment to helping families gain access to quality, affordable care.
We call on Congress to reject the president's budget request and encourage both the White House and congressional leaders to negotiate a deal that serves the neediest Americans, including a robust investment in CCDBG, and other programs that support the healthy development of young children including Head Start, school nutrition, afterschool, and access to child care on college campuses.
We need to make sure CCDBG receives an additional $1.4 billion in funding above FY 2017 levels, and that programs like CCLC, CCAMPIS, and SNAP are fully supported, not cut. Join us by taking action today!