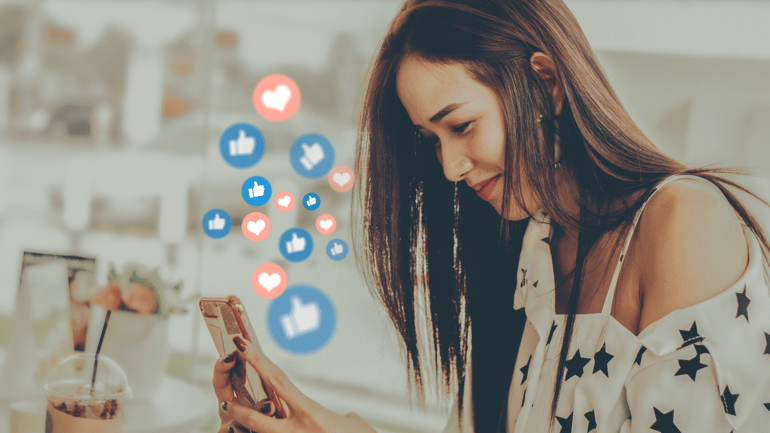 This case study is part of Child Care Aware® of America's Marketing Toolbox, a member benefit that features resources with information and advice on marketing best practices in activities such as branding, reputation management, social media and much more. The Toolbox's social media resources include sample social media graphics, tips on conducting a social media audit, and a list of social media content ideas for child care businesses and child care resource and referral agencies.
Note: Read to the end for a special, limited-time membership offer from Child Care Aware of America®.
All too often, the staff at child care businesses and CCR&Rs wear multiple hats. Social media may be just one responsibility among many others. So how can child care organizations make the most of social media without feeling overwhelmed?
Child Care Aware® of America spoke with three members to find out how they have successfully leveraged social media to make an even bigger impact in the communities they serve. Special thanks to the staff at the Tennessee Child Care Resource and Referral Network, Child Care Aware® of Virginia and Child Care Aware® of Washington for sharing their success stories.
Recognize Your All-Stars

to

Promote Your Programming
An easy way to create content and see a return on investment is by thanking program facilitators and participants. Programming might include anything from a webinar for providers to a parenting course for families in the community. In this way, you show gratitude for those involved and promote the types of events you typically host.
Child Care Aware® of Virginia runs a program called Breastfeeding Friendly Recognition, which trains early care programs to encourage families and staff to utilize spaces designated for breastfeeding. The program also promotes normalizing the healthy, bonding practice of breastfeeding:
"To promote [the] program, we began giving a shout-out on Facebook to the providers that recently completed our program. We created a template and, each month, filled in the names of the newly approved sites, tagging them on Facebook. This has helped advertise the Breastfeeding Friendly program, while further building our relationships with those approved providers, as they really appreciate and take pride in their recognition."
Child Care Aware® of Virginia realized that the providers love to share these posts on their own pages, and even families of the provider enjoy sharing on social media to show their pride and appreciation. The staff at Child Care Aware® of Virginia said, "It's been a great way to not only highlight our program, but also honor the participants in front of their peers and communities."
The Tennessee Child Care Resource & Referral Network used a similar tactic. At a recent CPR and First Aid training, the staff asked trainees to sign media releases. This allowed the agency to share photos from the event on social media.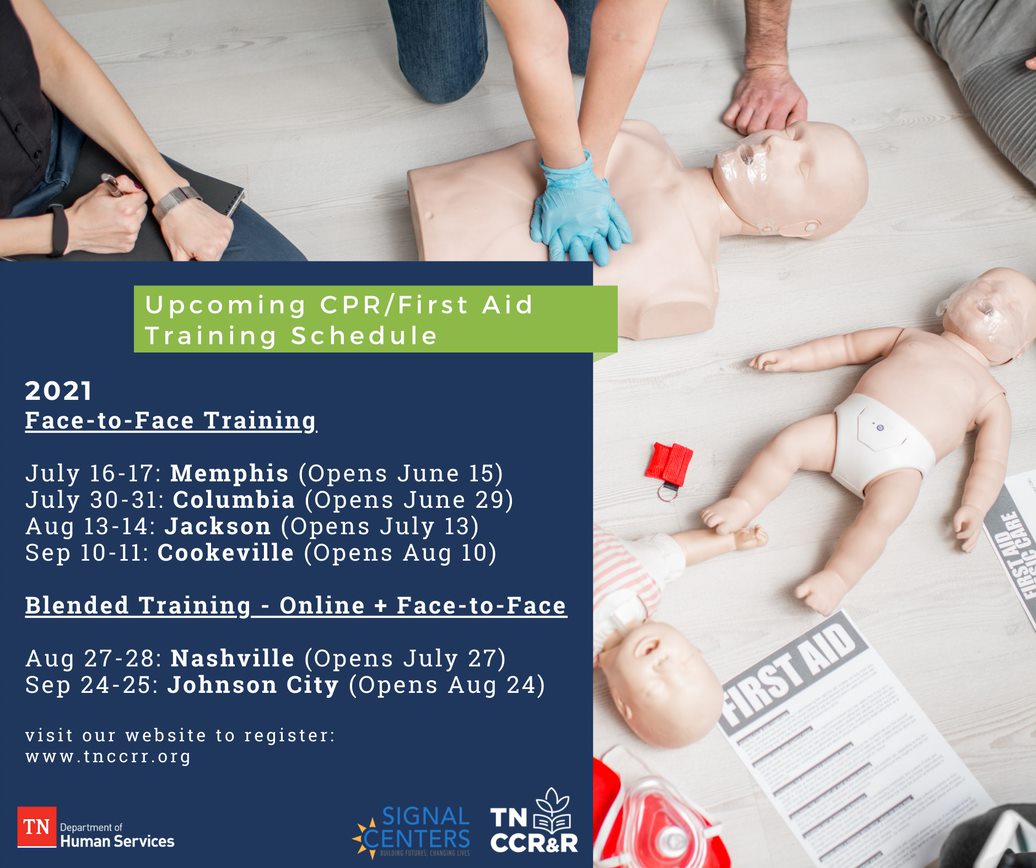 "Because of this interaction, several trainees engaged with our post and mentioned that the trainer was one of the best they had in years. This provided value to the educator by validating their attendance and professional development. It also illustrated the value of our training by giving us organic praise from educators."
Think about every event, resource or service you provide as something you can promote on social media. By creating event templates or asking for media releases, you have ready-made content that highlights the valuable contributions you provide to the community.
Announce Important Program Updates, Quality Requirements and More
Sometimes, your child care organization has timely information to share. A newsletter may work for general updates, but social media can get your message out much more quickly and possibly to even more people. Whether there are new program requirements around quality, or you need to share the latest guidance on COVID-19 safety protocols, social media is ideal for sharing rapidly-changing updates to a broad audience.
For example, state and regional child care resource and referral agencies are often responsible for disseminating information about state subsidies and other policy implementation plans. Child Care Aware ® of Washington recently used social media to relay updated information from the state child care system to its network of Quality Rating and Improvement System (QRIS) coaches and child care providers across the state:
"When Washington passed the Fair Start for Kids Act in 2021 -- a law that is reimagining how Washington looks at family subsidy access and provider reimbursement rates in order to expand access and affordability for Washingtonians -- we were able to successfully leverage our social media presence to not only announce that these major changes were coming, but also ensure that a wider section of our audience was kept up to date on how to access new programs and funding, where to find the most up-to-date information on timetables and deadlines, and where to go to receive in-person support and assistance as these changes continuously are rolled out."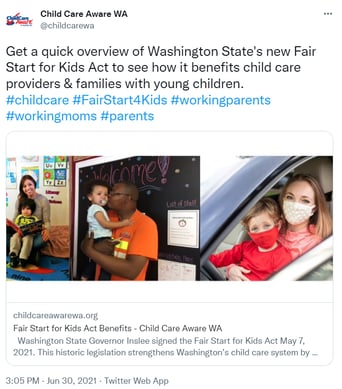 Further, Child Care Aware® of Washington tracked metrics around these social media updates and found that due to the timeliness and relevancy of the Fair Start for Kids Act, those social posts achieved 500% greater engagement than other content. "We were able to see in real time that our platforms are successfully enabling us to engage a wider portion of Washington's providers and families."
Pro-Tip: For guidance on tracking social media metrics and understanding your social media audience, access the full suite of social media resources in our Marketing Toolbox.
Galvanize Support in Times of Need
Social media is just that – social. It's where people share funny videos and discuss breaking news, but it can also be used in times of crisis.
At the start of the pandemic, Child Care Aware® of Washington heard from providers across the state about their needs for cleaning and sanitation supplies that are required to maintain a safe space for the children in their care:
"Providers shared with us that their normal avenues for supplying these cleaning materials were either out of stock or had raised prices dramatically...it represented an existential threat to the ability of many facilities to remain open. We took to social media to address the problem and get help from donors. We raised over $20,000 from direct donations to help secure cleaning materials, PPE and more for providers across our state."
Child Care Aware® of Washington attributes this success to a survey sent to providers asking them what supplies were most needed. This helped Child Care Aware® of Washington be more specific in its request for help, and more effectively support the child care businesses in their state during a time of need.
Access the Marketing Toolbox
Want to dive deeper on social media and other marketing topics? Get more resources on social media, branding and more with the Marketing Toolbox, free to members. Individual resources are available to non-members for a small fee.
Short videos on topics like email marketing, branding

,

and social media

Grab-and-go templates to apply to your everyday marketing efforts

Checklists to ensure your comm

unications efforts are reflecting best practices
If you would like to become a member to receive our member-exclusive Marketing Toolbox and share your successes, learn more today.
LIMITED-TIME OFFER: Join to become a member today and get 10% off individual and organizational memberships through February 21. Use code 2022SM at checkout.
*This offer applies to new and renewing CCAoA memberships only. Offer cannot be used on previous purchases.