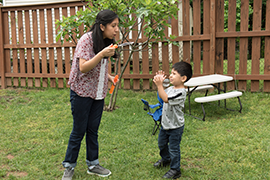 With June we welcomed the start of summer—longer days, the end of the school year, and summer vacations. We are pleased to share several exiting new work, most notably our recently released child care state licensing database. Additionally, read more below about our advocacy work on the horizon in states, important programmatic initiatives gaining traction, and upcoming webinars for our members. Look for the release of our 2017 State Fact Sheets on July 13, and stay tuned for more details on upcoming work around states-based child care deserts research.
Below are some additional highlights from June.
Online and On-Air
CCAoA recently released a new, comprehensive child care state licensing database. This database is populated with data collected directly from state licensing manuals, providing for analysis to demonstrate each state's child care regulatory alignment with Caring for Our Children Basics, which represent the minimum health and safety requirements outlined in Caring for Our Children, 3rd Edition, frequently considered to be the gold standard for child care practices. Users are encouraged to navigate from their state to a particular topic area for a brief overview of how their state is doing. Within each topic, each state receives a rating of "meets" or "does not meet" for each of nearly 80 standards for both child care centers and family child care homes. Through this database, users will also be able to download and print a two-page overview of a state's ratings as well as access an ever-growing list of resources and advocacy tools. As we continue to update and refine this database, CCAoA is embarking on plans for a workgroup to explore and develop a benchmarking tool to provide states with a better idea of how they're doing in comparison to Caring for Our Children Basics guidelines. If you are interested in joining our workgroup, please contact us at research@usa.childcareaware.org.
The research team is currently hard at work preparing our 2017 State Fact Sheet report. We look forward to releasing the report and related resources on July 13. CCAoA is also continuing work on our in-depth, customized, state-driven explorations of child care deserts in 15 states. This work builds off our inaugural white paper on Child Care Deserts: Developing Solutions to Child Care Supply and Demand released in September 2016.
From an emergency preparedness standpoint, this year is certainly record-breaking. From January to April there have been 636 preliminary tornado reports—more than twice the normal amount to date! Read more about tornadoes on our blog here. As a reminder, our website www.childcareprepare.org has a variety of resources and tips that can be shared with child care programs and families on severe weather preparedness.
As part of the team's ongoing work, the health policy team recently published three op-eds:
Around the Country
Bonnie Storm, Senior Director, Exceptional Family Member Program (EFMP) Respite Care, attended the Senate Hearing on Military Caregivers' Support. Testimony was given by Elizabeth Dole and actor Ryan Phillipe on the need for respite care as well as three military spouses who are caring for severely injured veterans. The hearing was held before the Senate Committee on Aging.
Kim Engelman, Chief of Family and Community Engagement, co-presented at the 2017 QRIS National Meeting on June 28 where she officially launched the updated state and national aggregate QRIS charts, which are now available on our website. The conference session covered QRIS standards and explored methods to support providers with differing opportunity networks. Participants also discussed opportunities for ongoing improvement in parent, family, and community engagement practices, using existing tools to meet the QRIS requirements and families' preferred ways to receive consumer education.
Andrew Roszak, CCAoA's Senior Director of Emergency Preparedness, attended the Child Care Aware® of Northwest Arkansas' Spring Child Care Conference. The conference, attended by more than 300 child care providers, featured a full day of learning, fun, and reflection. Andy presented on recent disasters that have impacted child care providers and provided proactive tips to help better prepare child care programs for emergencies and disasters.
Holly Nett, Community Resiliency Manager, attended the Pediatric Disaster Response and Emergency Preparedness 16-hour course in Missoula, Montana, sponsored by the Montana EMS for Children and Child Ready MT. This course, developed by the Texas A&M Engineering Extension Service and the National Emergency Response and Rescue Training Center, prepares participants to effectively, appropriately, and safely plan for and respond to a disaster involving children. While in Montana, Holly also took advantage of an opportunity to attend a NGO Training Summit, sponsored by the Salvation Army and Montana VOAD, as well as meet with CCR&R staff from Child Care Resources in Missoula and Child Care Connections in Bozeman.
Did you know that 99 percent of text messages are read, with 95 percent being read within the first three minutes? CCAoA's Emergency Preparedness team is currently exploring the option to develop a text messaging system that would allow providers to quickly send messages to parents and staff. As part of this effort, Andrew Roszak and Julie Looper hosted an in-person focus group with child care providers in Tulsa, Oklahoma. The focus group, made up of both family and center-based providers, engaged in a robust discussion around the potential uses of mobile texting in emergency and routine settings. Two additional focus groups are planned to further explore this topic, one in Minnesota and one in Kansas.
This month the child care health policy team, in partnership with the research team, conducted listening sessions and provided a report to the National Center for Early Childhood Health and Wellness on pandemic influenza resource needs in the child care community. The health policy team also conducted presentations at the National Indian Head Start Director's Conference and at the Southwest Indian Head State Consortium Conference on Child Nutrition Meal Pattern Changes, Healthy Active Living Strategies, and services to Pregnant Women in Head Start.
Child Care Works is ready to take its experts on the road! The team is heading to New York, Washington state, and Alaska this summer and fall to hold trainings on everything from digital organizing and recruiting advocates, to using data to support legislative asks and how to translate new laws into policy on the ground. This in-person training will help local CCR&R staff build organizing capacity and effect policies at the local, state, and federal levels.
Member Connections
CCAoA is pleased to announce a new membership webinar series! Please see below for our upcoming webinars.
Child Care and Disasters—The Role of CCR&Rs: Join us on August 9 at 2 p.m. ET for this webinar where we will explore different approaches that CCR&Rs have taken in the disaster context. Through presentations from CCR&R staff, we will explore the various roles that CCR&Rs can play before, during, and after a disaster. Register here

Family & Community Engagement: Purposeful Planning for Organizational Integration: Join us on September 20 at 2 p.m. ET for this webinar where we will explore family engagement planning. Exacting optimal child and family outcomes necessitates that families are at the center of all programming efforts. CCAoA staff will lead participants through an organizational family engagement planning tool to enhance concrete conceptualization and measurement of family engagement efforts. Register here
We also invite you to save the date for our 2018 Symposium, which will take place April 17-21, 2018 in Washington, DC. More details will be available soon. The call for presentations is now open through August 15.
ICYMI: June in the News
The Senate just released information on the new Better Care Reconciliation Act of 2017 (BCRA), meant to repeal and replace provisions of the Affordable Care Act (ACA). According to the Kaiser Family Foundation, Medicaid covers nearly 40 percent of all children in the United States, 76 percent of children from low-income households, and 60 percent of all children with disabilities. It also covers about half of all births in the country. The recently released draft legislation from the Senate could result in nearly 30 million children at risk with drastic cuts to Medicaid over the next 10 years. A take action was also distributed to CCAoA advocates asking them to contact their Senators and oppose BCRA. Read the related blog post.
CCAoA continues to offer high-quality family and community outreach through the Vroom Partnership Project's 10 Ambassador sites. These sites have provided local Vroom outreach and exposure through a variety of service agencies, such as Head Start programs, community museums, and libraries, to identify a few. While the 10 agencies provide training, support, and resources to their local families and child care providers, the national staff maintains a busy calendar providing on-site training and technical assistance to the Vroom Partnership Project sites across the nation. Additionally, the CCAoA project team delivers presentations through key, strategic early care and education national association conferences. There, colleagues and leaders in the field of early care and community outreach are informed of the numerous project lessons learned and outreach successes promoting the work of all the CCAoA's agency partners. The CCAoA Vroom Partnership Project staff have delivered strongly attended, and enthusiastically received, CCR&R Vroom presentations when attending such key early care and education association conferences as NAEYC/Professional Learning Institute, National Association of Family Child Care, National Family and Community Engagement, ZERO TO THREE, the National Indian Child Care Association, 2017 CCAoA Policy and Family Advocacy Summit, and the Los Ninos Young Child Expo.
Project funder the Bezos Family Foundation has reached out to the Florida Ambassador CCAoA agency, the Office of Early Learning, inviting them to participate in a promising effort piloting a new Vroom feature, texting Vroom tips. Their reach throughout the state has the potential of providing extensive, valuable data in support of expanding the national BFF Vroom initiative. The Vroom team is now in the midst of concluding its pilot with the first 10 Vroom Ambassadors and reflecting on the past 18 months of Vroom integration at the selected CCR&R locations. It is a very exciting time as the Vroom team now begins work on a customized CCR&R addendum to the Vroom Playbook and webinars for families and child care providers to educate them on the Vroom initiative.