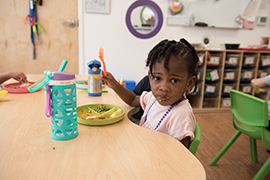 It's hard to believe that July is coming to a close, and with it the imminent start to a new school year! August is National Back to School Month and we are celebrating with parents and providers through our Back to School Blog Series and daily back to school tips. July was another busy month, which included the release of our 2017 State Fact Sheets. We also continue planning around the 2017 Leadership Institute in October and our culmination 30th anniversary celebration at 2018 Symposium in April.
Below are some additional highlights from July.
Online and On-Air
We are pleased to announce the release of our annual State Fact Sheets, which provide important data to better understand America's working families and the circumstances they face. As such, it is a critical tool for child care advocates, policymakers, and program administrators to guide decision-making about child care programs and costs. This year's state fact sheets include new information about services provided by CCR&Rs, emergency preparedness in states, and child care supply for infants and toddlers.
CCAoA also continues work on our in-depth, customized, state-driven explorations of child care deserts in 15 states. This work builds off our inaugural white paper on Child Care Deserts: Developing Solutions to Child Care Supply and Demand released in September 2016.
The NCECDTL has finalized and shared four new resource compilations for states! The resources are in direct response to state's TTA requests on the topics on articulation agreements, staff recruitment and retention, preventing and reducing suspensions and expulsions, and professional development system frameworks. Each of these resources will live on federal websites (either ECLKC, CCTA, or EEC) after they have gone through final approval of 508 compliance. For more information, please contact Brandi King at brandi.king@usa.childcareaware.org.
Around the Country
Child Care Works is launching a Baby's First Town Hall project this August while members of Congress are back in their home districts. Advocates in the states will be visiting key legislators to talk about the importance of early care and learning programs for families and children. If you didn't sign up to join us in-person, you can still take action! Visit childcareworks.org/babys-first-town-hall for more information and ways to join us online. Just don't forget to tag your posts with #BFTH17 when you reach out to your legislators on social media.
CCAoA staff members, Holly Nett and Andy Roszak, hosted a child care provider focus group meeting at the offices of Child Care Aware® of Minnesota on July 10, centered on the topic of utilizing mobile text messaging as method to quickly notify parents and guardians of emergency situations within a child care program. Child care providers in attendance discussed benefits and challenges of current practices in using text messages and offered feedback on new strategies, as proposed by Compliant Campaign. The open discussion that took place at this meeting will be used in creating a product that will be made widely available to child care providers across the nation in the future.
As one component of the CCR&Rs as Resilience Hubs pilot program, grantee Child Care Aware® of Minnesota held its third quarterly advisory committee meeting on July 17. Twenty-nine attendees, including CCAoA staff members, Lynette Fraga, Holly Nett, Dionne Dobbins, and Andy Roszak, were in attendance. Partner agencies showcased at this meeting included the Minnesota Initiative Foundation, which has offered emergency preparedness training and resources throughout the state, and the Center for Inclusive Child Care, which is exploring ideas for better preparing the child care workforce to help children with special needs in disaster preparedness.
Member Connections
CCAoA is pleased to announce a new membership webinar series! Please see below for our upcoming webinars.
Child Care and Disasters—The Role of CCR&Rs: Join us on August 9 at 2 p.m. ET for this webinar where we will explore different approaches that CCR&Rs have taken in the disaster context. Through presentations from CCR&R staff, we will explore the various roles that CCR&Rs can play before, during, and after a disaster.
Family & Community Engagement: Purposeful Planning for Organizational Integration: Join us on September 20 at 2 p.m. ET for this webinar where we will explore family engagement planning. Exacting optimal child and family outcomes necessitates that families are at the center of all programming efforts. CCAoA staff will lead participants through an organizational family engagement planning tool to enhance concrete conceptualization and measurement of family engagement efforts.
We invite you to save the date for our 2018 Symposium, which will take place April 17-21, 2018 in Washington, DC. We will be celebrating 30 years of working to strengthen a quality child care system. To continue our work with communities, we are looking for individuals who can provide thoughtful, solutions-based presentations on a variety of child care topics. The call for presentations is now open through August 15.
ICYMI: July in the News
This month, Andy Roszak's article, "Child's Play: Remembering Our Youngest in Disaster Planning" was published by the International Association of Emergency Managers, a non-profit membership organization which represents the emergency management community. The IAEM has more than 6,000 members worldwide and is largely regarded as the 'go-to' organization for emergency management. Andy's article was intended to educate the emergency management community about child care resource and referral agencies and also be used by CCR&Rs as a conversation starter with local emergency management officials.
Kim Engelman, Chief of Family and Community Engagement, was recently published in Johnson County Magazine. The article covered selecting licensed child care for your family and included contributions from the Johnson County's child care licensing director and The Family Conservancy's CCR&R director. The article also includes a link to CCAoA's 38 indicators of quality care.
CCAoA is pleased to announce that Mindy Bennett has joined the organization as Director of Professional Development. She will be supporting the activities of the organization to include programming for annual and regional meetings, professional development virtual seminars (webinars), oversight of educational communities, certification and continuing education activities, and special initiatives. Mindy has worked for Early Learning Indiana for the past 21 years. She began her work there as a teacher in their nationally accredited child care center. In 1997, she transferred to their child care resource and referral program, Child Care Answers. In addition, Mindy has spent many years working with CCAoA. Mindy represented Indiana on the Membership Council for several years; from there she was elected to serve on CCAoA's Board of Directors. During her tenure on the board, Mindy served as the chairperson of the Membership Council.