I'm a working mom of three kids. Now that the school year is almost over for my two older kids, it hit me - next year I'll have one in middle school, one in elementary, and one in preschool. I'm not sure if we'll keep our current before- and after- school care situations. And I'm still figuring out where everyone will be this summer!
The two older girls have distinct interests and I've tried to accommodate them by letting them participate in a variety of activities during their time away from school. Finding care for them before school, after school, and during the summer has always been a major challenge. Now I'm adding a toddler to the mix … see where I'm going?
That's why I was excited to write this two-part blog about out of school time. I interviewed Gina Warner, J.D., president and CEO of the National Afterschool Association, to learn about her work and the importance of out of school time for children and their parents.
Dionne: Hi Gina. So happy to have you join us today. Tell me a little about your organization and its mission.
Gina: I'm the CEO of The National Afterschool Association (NAA), a membership association for professionals who work with children and youth in diverse school and community-based settings to provide a wide variety of extended learning opportunities and care both before school, after school and in the summer. We provide resources, training, professional development and networking for the afterschool field, serving as the "voice" for those who work to support children and families in these settings.
Dionne: Approximately how many children and youth are in school-age care/afterschool programming across the country?
Gina: The 2014 "America After 3PM" report, published by our policy partners at the Afterschool Alliance, found that there are approximately 10.2 million children in afterschool programs. While we are all excited that this number represents a significant increase in children served over previous years, the same report found that parents of 19.4 million children said they would enroll their child in an afterschool program if one were available And, while the number of children alone and unsupervised after school has decreased over the last 10 years, there are still 11.3 million children headed for an unsupervised environment after the last school bell rings. So, we still have more work to do close the access gap for children and families!
Dionne: Why is school-age care/afterschool important for children and families?
Gina: As the economy continues to recover, afterschool programs are an essential source of support for working parents—giving them peace of mind when at work and helping them to keep their jobs. But just as important, afterschool is a place where children can learn, grow, create and explore. I never miss an opportunity to ask others to reflect on their own afterschool story and consider the impact that experience had on making them the person they are today. In nearly every situation, it is an out-of-school enrichment, academic or leadership experience that influenced that person's development in positive ways.
Dionne: One thing we are concerned with at CCAoA is quality. How do you define quality programming for out of school time?
Gina: "Quality Standards for School-Age Programs" a publication by NAA and research partners at the National Institute for Out-of-School Time address best practices in a number of domains. Now nearly 40 states and numerous national program organizations have adopted variations of these standards to guide their work. But, as a parent with a child in afterschool programs I think the question is much easier (and more personal): Is this a program where I would want to send my own child? Will he or she feel safe? Appreciated? Encouraged? Challenged? Engaged? I think we should keep those impressions top-of-mind when discussing what quality is and why it matters.
Dionne: As you know, many of our members are Child Care Resource and Referral agencies. How can they help get the word out about the importance of quality school-age careafterschool programming?
Gina: Thirty-one states have NAA State Affiliates. Those affiliates are great resources for training and professional development opportunities available at the state and local level and would welcome opportunities to share information about the importance of – and need for – greater access to high-quality afterschool programs. You can see if your state has an NAA Affiliate here.
Dionne: What are states and communities doing to build the supply of quality school-age care/afterschool programming? How can parents and child care providers help?
Gina: Just this past week hundreds of afterschool providers from around the country visited Capitol Hill as part of the annual "Afterschool for All Challenge." They were urging members of Congress to continue investments in 21st Century Community Learning Centers and other federal programs that increase access to high-quality afterschool programs. While those visits are certainly important to the growth of afterschool, I know - as a former staffer for a member of Congress - there is nothing more persuasive than having an elected official visit an actual program site. Interacting with the children and staff, and observing (and sometimes participating in!) fun and educational afterschool experiences is the best way to demonstrate the value of our work and garner commitments for support! The Afterschool Alliance has some great tools to help you host a site visit at your program.
Dionne: So you know I'm worried about the official start of summer and where to put my children! Can you give this working mom and our audience some tips for looking for quality summer learning programs and camps?
Gina: Since I am currently in that same boat myself I'll tell you what I am doing to find the best opportunities for my daughter this summer! As a working mother, I need options that provide a nearly full-day experience. Timing, location and costs are real considerations for many families and mine is no different. After allowing for those issues, I then focus on her interests. Are there places that will expose her to new things she thinks she might enjoy? Conversely, are there camps that will allow her to dive deeper into an already-explored interest or build on some budding skills she has? Finally, I want to know that the adults working the program are interested in and concerned about my daughter. Will they encourage her, challenge her, care about her? All of those factors weigh into my summer camp and afterschool decisions!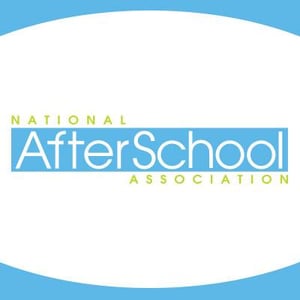 I feel a little bit better knowing that I'm not alone in my concern about out of school options for my kids! It's tough but not impossible. Check back next week for more information on afterschool and summer learning in part two of our series!
Check out NAA's website and sign up for their weekly enews, which is full of tools for staff development, resources for programs and links to fun and hands-on activities. Also, be sure to check out the NAA Pinterest boards for more great ideas! And, finally – if you join NAA as an ambassador member (it's free!) you'll have digital access to their great magazine, AfterSchool Today, full of program profiles and the latest happenings in the field.