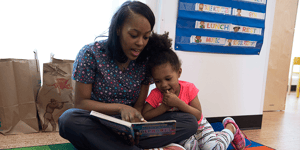 Children whose parents participate in their education, both in and out of the classroom, learn more effectively and are happier and more successful at school. Recent research shows that children have better report cards, greater self-esteem and a more successful future.
When parents attend a school event, they send a strong message that school is important and school and home are connected. It shows your child how much you care about his education. However, today's families struggle to find the time to participate as much as they'd like. This can be frustrating for working parents.
What Does Parent Involvement Mean?
In most schools there are four types of school activities in which parents can participate during the school year:
attendance at general school meetings
attendance at regular parent-teacher conferences
attendance at a school or class event
serving as a school volunteer
Volunteering requires the most time but can often be the most satisfying and fun. A great way to volunteer is to contribute a skill or interest you already have. Whether it is computers or carpentry or cooking, you can share your expertise and have the opportunity to interact with your child and her class.
There are also ways to volunteer that do not require you to leave your job. Talk with your child's teacher and with other parents about how you can get involved. Here are some ideas that can be done on your own time and don't have to be overly time-consuming:
coordinate the class telephone chain
type school letters
plan special events for children or parents or both
make special foods for birthdays or holidays
collect free household items such as fabric, egg cartons, magazines, wood scraps, jars, etc.
clip articles from magazines and newspapers that can be used by the teacher or caregiver – this could be anything from field trip ideas to recipes to a child care topic
offer to speak with other parents who are interested in sending their child to the school or center
contribute or offer to start a school newsletter
send in objects, food or pictures from home that contribute to the curriculum
work on the parents organization – consider co-chairing a position
Your Work Schedule
If you are a working parent, you need to prioritize and plan ahead for school activities. Concerts, field trips, and parent meetings are often planned during school hours. A good strategy is to sit down with your own calendar in August when the school schedule arrives and plan ahead for the year. Later you can decide which activities might be worth asking for time away from work.
It's important to talk with your child about which events are special to him. Explain that you can take some time off work and together choose which events are most important. If you cannot attend an important event, try to get a relative or friend to fill in for you. Having the event recorded through photos or video will allow you and your child to share in the occasion at a later time.
Which events you choose will depend on your schedule, your child and your school's environment. However, certain school events are so important that you should try to be there if you possibly can:
the first day of school, at least for drop-off and pick-up
back-to-school night
holiday concert or play
any concert or performance in which your child has a role
parent conference
parent visiting day
sports teams - try to show up at least once during the season
the last day of school
any graduation or end-of-year ceremony
Plan to meet your child's new teacher at the beginning of the school year. Call to make an appointment before school starts one morning. You can follow up by sending notes throughout the year with your questions, suggestions and offers to help as your schedule permits. Good communication is essential to having a strong sense of connection with your child's program and contributing to your child's educational experience.
Let the school know your schedule and when you can or cannot be available. The school needs to know that 10:30 coffees may not be convenient for you but you can try to be flexible at 8:30 in the morning or in the evening.
Relationships With Child Care Centers And Providers
Your relationship with your child care center or provider is different than one with your elementary school. In family care, taking time to talk with your provider at the beginning or end of the day is the best way to be connected. It is also a good idea to plan time without children around to discuss how things are going.
There are a number of ways to be involved if you are using a child care center. In addition to your conference with the teacher there are evening parent meetings, field trips, fundraising projects and an event or two you will want to attend. Ask the Director what activities you could help with and choose something that fits your schedule.
Consider too how important and powerful your sincere thank you can be. Two national initiatives, the Week of The Young Child and Provider Appreciation Day, are held each spring to recognize those people who impact the lives of children in positive way.
Family Friendly Policies At Work
Fortunately, more workplaces are developing creative solutions to flexibility for their employees. An increasing number of managers realize that policies friendly to families benefit everyone. Some companies offer flexible work schedules that offer paid time off for employees wishing to attend a school event. Find out if your employer has volunteer opportunities, creative partnerships with schools or parenting workshops and seminars.
If you need time off, approach your manager well ahead of time with a plan for how you will manage your work while you're away. Maybe you will come in early or work an extra couple of hours at a later time. In this way your company will be more likely to respond positively to your request.
Strategies To Building Partnerships
Meet with your child's teachers at the start of sch Explain that you want to be involved in your child's education but your job prevents you from being in school during the day. Ask for suggestions and jobs you can do at home.
Ask your child's teacher or provider for the best ways to be in touch. Are there good times for phone calls? Is there a fax? Can you write notes back and forth?
Be sure to give the school and your child's teacher your phone number(s) and the best time to reach you.
Plan to attend school m If meetings are held during the day, give the organizers your feedback about working parents. If you miss a meeting, call to ask for a copy of the minutes.
Offer to help out with special events or parent comm
Drop in on your child's school or center occasionally on your lunch hour.
Offer to send in a special snack for all the childre
Loan the teacher or provider an interesting game or book.
Early Childhood PTAs
An early childhood PTA is for everyone interested in the education and development of young children from birth to age 5. Although PTAs are traditionally associated with schools, an early childhood PTA may be organized in preschools, day care settings, places of employment, kindergartens or community centers. For more information on the National PTA or Early Childhood PTA visit www.pta.org .
Choose to get involved in your child's school - you make a difference!
---
The Daily Parent is prepared by NACCRRA, the National Association of Child Care Resource and Referral Agencies.
© 2012 NACCRRA. All rights reserved.