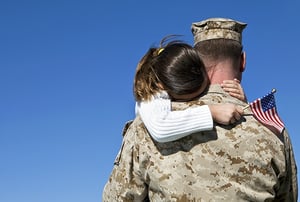 Raising a child with disabilities can be rewarding in unexpected ways. There's the pride of seeing your child master a new skill, often after a struggle that typically developing children never know. Naturally, there are challenges involved in caring for a child with special needs, especially if the child's physical or developmental disability is severe. Parents often say they long for a break from the 24/7 demands of caretaking.
Thousands of military families nationwide are assured just that, a break, as one benefit of being enrolled in their service branch's Exceptional Family Member Program (EFMP). For service members whose family includes a child with certain types of special needs, enrollment in EMFP is mandatory. The special needs categories include developmental disabilities or delays, and physical disabilities. But the EFMP program is also for children whose health needs require them to spend time in major medical facilities. Parents of children enrolled in EFMP may be entitled to respite child care – that is, child care by a trained and screened provider so that parents are free to run errands, go on a date, rest, or whatever else they choose to do.
Child Care Aware® of America administers the EFMP Respite Care program on behalf of the U.S. Air Force and the U.S. Navy. In total, there are about 2,400 enrolled families – roughly 1,500 Navy and 900 Air Force. One of CCAoA's roles as program administrator is to identify agencies across the country that have expertise in child care, respite care, and/or children with disabilities. The agencies recruit respite care providers, which involves:
Selecting potential providers
Screening those providers, including performing comprehensive background checks
Training them in CPR, First Aid, child abuse awareness (prevention of, identification of, and reporting cases of suspected abuse), and dispensing medication. Providers also get specific training in how to care for children with special needs.
Even after a placement, agencies remain involved with providers through quarterly monitoring and technical assistance. They also ensure that providers receive eight hours per year of ongoing training related to the care of the children in their charge.
According to Bonnie Storm, CCAoA's Senior Director of EFMP Respite Care, what distinguishes the program is the effort made by partner agencies to match providers and families. Families set the criteria they are looking for in a provider. A potential provider visits the home, interviews with the family, and interacts with the children – all children in a family, not just the member with special needs. Providers are required to care for typically developing siblings, too, so that parents can get a true break from caregiving. Both the Navy and the Air Force allow families up to 40 hours per month of respite child care.
The most frequent diagnoses for children in the program are autism and developmental delays in combination with other conditions. Other disabilities include cerebral palsy, Down syndrome, hearing or vision impairments, etc. More than 15 percent of families have more than one child with specials needs. Asked to describe what makes a successful provider, CCAoA's Storm mentioned two qualities: 1) an understanding of the care of children with special needs; and 2) a strong drive to do the work. Many of those who choose to become a respite child care provider have a family member with special needs.
Over the next few months, we will explore the EFMP Respite Care program in greater depth. We will tell the stories of individual providers and the work they do. We will also tell the stories of families who receive services from a respite care provider. What has it meant to parents, the child/ren with special needs, and the family overall?