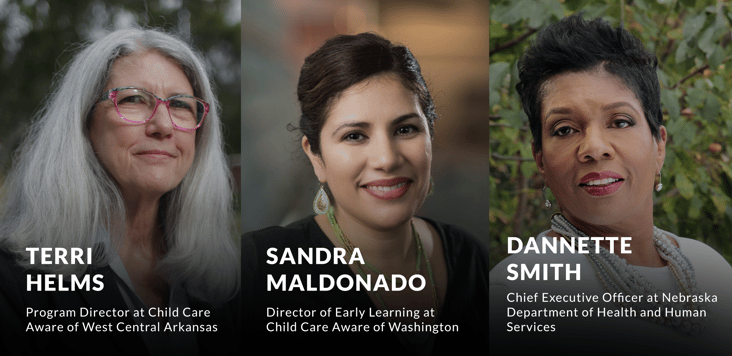 Child Care Aware® of America  welcomes three new members to its Board of Directors who will assume their positions in January 2022.    
Terri Helms, MA

, is the Program Director of Child Care Aware West Central Arkansas at National Park College. Her first professional experience as a para-professional/interpreter for the deaf at a public school in Lincoln, Nebraska, validated for her the value in focusing resources and attention on every child, emphasizing inclusive practices and the importance of family engagement. She worked as a volunteer in her children's public schools, in faith-based programs, camps and community service agencies. She also substitute-taught while completing her degrees and working in child care facilities. Her first supervisory position was at a Head Start and, after relocating to Arkansas, she became an Early Childhood Education (ECE) trainer, a Child Development Associate (CDA) Instructor, TA for quality, state-funded Pre-K Lead Teacher and Facility Director for a private, then faith-based, Quality Level 3 program. To Helms, leadership is about encouraging others to be their best using the strengths they have and stretching themselves beyond what they thought was possible.

 
Sandra Maldonado, M.Ed.

, is the Director of Early Learning for Child Care Aware of Washington.

 

Maldonado's 23-year career in the field of early care and education includes many roles, beginning as a parent volunteer in a military child development center, caring for and teaching infants, preschool, school-age children and providing coaching and consultation for Quality Rating and Improvement Systems (QRIS). Her leadership roles include Center Director, Early Head Start Director and her current position leading CCA of Washington's QRIS TA/Coach and Professional Development system. Maldonado's background and lived experience as a bilingual, bicultural woman of color nurtured her passion for developing relationships with diverse individuals and families to create collaborative and inclusive partnerships. She is dedicated to supporting children, families and the early learning workforce. Her drive is rooted in her passion to advance an anti-racist policy, practice and support for communities.

 
Dannette Smith, MSW

, 

was appointed CEO of the Department of Health and Human Services for the state of Nebraska in February 2019. She has more than 25 years of executive leadership experience in large, complex organizations. Smith has been a catalyst for creating innovative programmatic and technological solutions and to improving the operational structure of DHHS. In Nebraska and other jurisdictions, she has been closely involved with Chambers of Commerce, Economic Development Departments, law enforcement agencies and community engagement advocates in workforce development. Smith's banking and financial literacy initiatives, in partnership with those organizations, have helped individuals in those communities move toward self-sufficiency and autonomy. Prior to joining DHHS, Smith was the Director of the Virginia Beach Department of Human Services. She has also worked in a leadership capacity in Cook County, Illinois; Mecklenburg County, North Carolina; Atlanta, Georgia; and Seattle, Washington. 

 

 
Child Care Aware® of America also thanks two members who will be leaving the Board: Walter Gilliam, Ph.D., Director of The Edward Zigler Center in Child Development and Social Policy and Professor of Child Psychiatry and Psychology at the Yale Child Study Center, and Paula Neth, President and CEO of The Family Conservancy in Kansas City. Their contributions and commitments as Board members of CCAoA have been extraordinary.  
"We're honored to have such a distinguished group of early childhood experts and leaders join our Board," said Lynette M. Fraga, Ph.D., CEO of Child Care Aware® of America. Along with our current Board members, they will guide our organization as we help create an equitable, transformed child care system in 2022 and beyond. I'd also like to extend a heartfelt thank you to Walter Gilliam and Paula Neth for their years of service and leadership on the Board." 
"Serving on Child Care Aware of America's Board for the past 12 years, and as its president from 2019 through 2020, has been a highlight of my professional career in the service to children, families, and the amazing professionals who care for them every day," said Walter Gilliam. "CCAoA, the nation's most trusted voice for child care access and safety, supports the child care industry in myriad ways, and I will always remain in awe of all that its amazing CEO, staff and Board do to achieve a vision of equitable, affordable, and accessible child care for America's children and families."

"It has been an honor and privilege to serve with such a dedicated group of professionals who all share in a mission to advance a child care system that is equitable and serves all children and families," said Paula Neth. "The current and new Board members are the brightest and smartest people I know. And with all this collective brainpower and passion, they will lead this country to real change and a transformation of the child care system, which is a public good for all children and families."