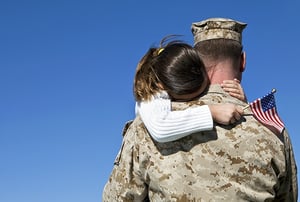 Families face many challenges when seeking child care—is it affordable and accessible, does it meet the child's needs, and does the child care provider or center meet certain standards and requirements? Now let's think about the military family, who faces additional obstacles. According to the U.S. Department of Defense (DoD), active-duty military personnel move an average of once every two to three years. And these moves are not trivial, often long distance or to foreign countries. This results in children changing schools and child care providers frequently. In addition, the DoD reports that roughly 70% of military families do not live on base, making access to military-funded child care even more limited.
Child Care Aware® of America (CCAoA) is proud to celebrate the Month of the Military Child this April as a supporter of our military families through various programs and services. In February, the Army Fee Assistance Program officially began its transition back to CCAoA. Since the inception of military fee assistance programs with CCAoA more than 10 million families have participated across military services to include Army, Air Force, Navy, and Marine Corps. CCAoA also provides a nationwide network of 10,000 licensed child care providers for military families seeking high-quality, affordable child care. We have the privilege of speaking with thousands of families and providers each year through our Child Care Aware® national hotline, and help connect more than 1.5 million visitors through our website. Our Exceptional Family Member Program (EFMP) provides Navy and Air Force families in 35 states with much-needed respite care.

Lt. Cmdr. Robert Strange, assistant air operations officer aboard the Nimitz-class aircraft carrier USS Harry S. Truman (CVN 75), is welcomed home by his wife and family. U.S. Navy photo by Mass Communication Specialist 3rd Class Ricardo J. Reyes.
It is important to recognize both the resilience of military families as well as their children. For children, frequent moves means a new home, neighborhood, school, and friends. Parents are the lynchpin in providing a supportive environment for their children; however, the entire community plays an important role in helping children get acclimated to their new surroundings. Child care providers also play an essential role in supporting children during these transitions and allowing for a positive and safe environment.
At Child Care Aware® of America, we are proud to serve those who serve our country, and help ensure that all families have access to quality, affordable child care.
Visit the U.S. Department of Defense's Month of the Military Child page for more information.