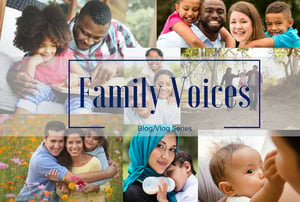 Welcome to our Family Voices Blog/Vlog series! Grab your favorite cup of coffee or tea to enjoy while you immerse yourself in the real-world child care experiences of families from across the nation. These stories all have been written or video logged by people just like you and me who care deeply about the child care choices they have and see immense value in the opportunities that early care and education services offer for children, families, employers, and communities.
Through this Family Voices Blog/Vlog series, our guest writers and video-loggers will elevate the contemporary triumphs, challenges, and opportunities present in their local child care settings and the child care system as a whole. The stories imparted herein represent the organic experiences straight from the mouths of American families. These are the voices of citizens who work hard to lay a solid foundation for their children and children's children—one that serves as a pivotal springboard to living enriched, happy, productive, and healthy lives.
I firmly believe, and you likely do too, that families are the best first teachers and advocates for their children. The collective "village" that surrounds each and every family, such as relatives, close friends, community, employers, corporations, faith community, human service providers, and early childhood educators serve as important protective layers. These protective layers form the necessary backdrop for the enriching and very special relationships between children and their adult caregivers—relationships that are at the heart of the physical, social, emotional, and academic development of all children. For the 12 million children in the United States with adult caregivers who work outside of the home, according to an economic news release from the Bureau of Labor Statistics, early care and education settings are a cornerstone village building block.
I invite you to come back often to read and listen intently to the family voices raised in this blog/vlog series. Let these stories soak in, puddle up, grow in mass, and have a resounding ripple effect in your child care, local, state, or national virtual village to make quality child care choices a reality for all families. Explore our Family Voices Blog/Vlog series today!
Share Your Child Care Story
Interested in sharing your child care story? We would love to hear your thoughts on any of the following:
provider compensation
child care search, helpful child care information
important considerations when choosing a child care provider
relationship with child care provider
the cost of child care, biggest child care related challenge
determining high-quality child care
finding child care for a child with special needs