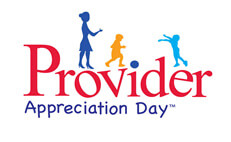 Washington, D.C. – Child Care Aware® of America (CCAoA), National Association for the Education of Young Children (NAEYC), National Association for Family Child Care (NAFCC), National Head Start Association (NHSA), and National Indian Child Care Association (NICCA) are pleased to announce the launch of a new Provider of the Month program (www.providerappreciationday.org), which will kick off on May 8, 2015 – Provider Appreciation Day.
With the release of a new report on the early education and child care workforce highlighting the gaps in leadership, workforce development, and public policy, this new appreciation program will spotlight champions in the early childhood education and child care space from across the country. Each month a team of judges will select a nominee from the top submissions; a provider who exemplifies the best practices and behaviors of an outstanding child care provider.
"We have long known that adults who interact with young children have the potential to add significant value to their development and overall health and well-being. CCAoA and our partner organizations launched the Provider of the Month program to honor and recognize these providers and members of the workforce for their contributions to the growth, health, and education of our next generation," said Lynette M. Fraga, Ph.D., Executive Director of CCAoA.
Yasmina Vinci, Executive Director of NHSA said, "Head Start has for 50 years incorporated both innovation and best practice in the delivery of early learning and comprehensive services. Newly funded Early Head Start - Child Care partnerships are expanding access to high quality early care and education to tens of thousands of vulnerable infants and toddlers and their families. CCAoA's Provider Appreciation Program is a welcome opportunity to focus a national spotlight upon some of these innovative programs and partnerships, as well as upon some of the talented staff and teachers who work with dedication and passion every day to provide the very best for our children."
Early childhood development supporters can honor leading child care providers by nominating them as a Provider of the Month. Each Provider of the Month will be recognized in the following ways:
Featured in partner blog posts;
Recognized in various e-newsletter publications by Provider Appreciation Day partners;
Highlighted on partner social media platforms and via the provider's local news outlets;
Acknowledged by the provider's member of Congress via a certificate of recognition; and
Celebrated at a breakfast at the 2016 CCAoA Symposium.
"The National Indian Child Care Association (NICCA), as our nation's leading voice for Tribal Child Care, believes that child care providers are the foundation to high quality early learning programming. Child care providers are unsung heroes and the heart of our programs. Early learning partnerships help support the goal to increase high quality, culturally appropriate and intentional practices for children. NICCA is honored to be a part of this partnership to recognize child care providers. CCAoA's Provider Appreciation initiative is a wonderful way to bring recognition for Child Care providers and highlight the important work they do".
Eva Daniels, Executive Director of NAFCC, stated that family child care providers are an essential component of the early education framework. Daniels said, "Family child care providers are the cornerstone to providing high quality care in a warm and nurturing environment. Licensed, high quality, or accredited family child care professionals provide an environment that puts children on a trajectory towards educational and life success. Provider Appreciation Day is an opportunity for NAFCC to recognize, and honor individuals that have dedicated their careers, and homes to educating America's littlest learners."
With Provider Appreciation Day quickly approaching on May 8, the new website allows users the opportunity to nominate exemplary providers in their community for national recognition, and access a wealth of resources to honor their own childcare providers and educators in their area with:
Thank you cards,
Provider Appreciation Day logos,
Sample press release about Provider Appreciation Day,
Sample letter to request a proclamation from your local officials,
Certificates to honor providers, and more.
With the widespread understanding of the importance of early education, it is critical that we foster a talented and passionate workforce of early education professionals across the country," said Rhian Evans Allvin, Executive Director of NAEYC. "To that end, NAEYC is proud to support this new program and celebrate Provider Appreciation Day."
Visit www.providerappreciationday.org for details on how to nominate an exceptional child care provider or educator in your community and help us honor those providers that go above and beyond for the children under their care.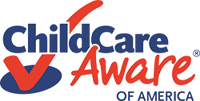 Child Care Aware® of America
Child Care Aware® of America is our nation's leading voice for child care. CCAoA works with state and local Child Care Resource and Referral agencies (CCR&Rs) and other community partners to ensure that all families have access to quality, affordable child care. CCAoA leads projects that increase the quality and availability of child care, offer comprehensive training to child care professionals, undertake research, and advocate for child care policies that improve the lives of children and families. To learn more, visit usa.childcareaware.org. Follow them on Twitter @USAChildCare and on Facebook at facebook.com/usachildcare.


National Association for the Education of Young Children
NAEYC's mission is to promote high-quality early learning for all children, birth through age 8, by connecting practice, policy, and research. NAEYC advances a diverse, dynamic early childhood profession and supports all who care for, educate, and work on behalf of young children. Learn more at www.naeyc.org.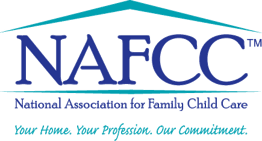 The National Association for Family Child Care
The National Association for Family Child Care is a non-profit organization dedicated to promoting quality child care by strengthening the profession of family child care. The goals of NAFCC are to support state and local family child care associations, promote professional accreditation, advocate for family child care providers on legislation, and promote diversity within the field. NAFCC is the leading voice of family child care professionals nationwide. Learn more at nafcc.org or follow them on Twitter @NAFCC and on Facebook at facebook.com/nafcc.


National Head Start Association
The National Head Start Association (NHSA) is a non-partisan, not-for-profit organization committed to the belief that every child, regardless of circumstances at birth, has the ability to succeed in life. The opportunities offered by Head Start lead to healthier, empowered children and families, and stronger, more vibrant communities. NHSA is the voice for more than 1 million children, 200,000 staff and 1,600 Head Start grantees in the United States. For more information about NHSA, visit www.nhsa.org.

National Indian Child Care Association
The mission of National Indian Child Care Association is to unify tribes and tribal organizations to promote high quality culturally relevant child care and development. National Indian Child Care Association will provide leadership, support, and communication on behalf of Native American children, families, and communities. To learn more about NICCA, visit www.nicca.us or follow them on Facebook at facebook.com/nicca.us.