Child Care Aware® of America was proud to be a Gold Sponsor of the recent 2017 ZERO TO THREE conference. The event brought over 3,000 early childhood professionals to San Diego, CA November 29-December 1 for three days of learning, networking, and socializing.
CCAoA was also one of the 70-plus exhibitors at the conference. Our booth was not only informative but interactive! Staff shared information on our organization and our current programs, and informed attendees about how they could get involved in CCAoA.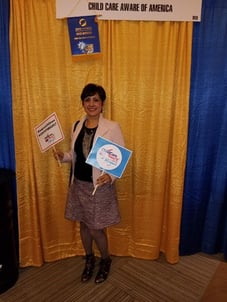 And our photo booth was a hit! Participants were eager to take pictures holding signs supporting and celebrating ZERO TO THREE and some of the many programs at CCAoA, including emergency preparedness, health and wellness, Vroom, and Child Care Works. The photo booth was an imaginative way for us to promote the conference and share the incredible work happening at CCAoA. Dr. Lynette M. Fraga, our Executive Director, and Matthew Melmed, Executive Director of ZTT, even stopped by the booth to take pictures. Naturally, CCAoA tweeted some of these photos! Attendees were also encouraged to post their pictures using #CelebrateChildCare and #ZeroToThree17 for a chance to win prizes.
For some conference participants, this was their first introduction to CCAoA. Others, like CCAoA members from across the country, were already very familiar with us. Two of CCAoA's newest board members, Barbara Thompson and Taran Schneider, were also able to stop by the CCAoA booth.
CCAoA staff had the opportunity to attend several conference sessions and network with other early childhood professionals.
To conclude an awesome experience in San Diego, CCAoA held a dinner attended by CCAoA members and staff who were at the conference. The latter were able to hear the views of and challenges faced by members from various states, as well as enjoy funny personal stories about members' children and families.
CCAoA staff enjoyed being a part of a successful ZTT conference and congratulates ZTT on 40 years of ensuring that all babies and toddlers have a strong start in life.