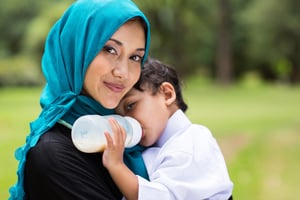 On August 8, 2016, Child Care Aware® of America formerly launched a Child Care Information Poll. The poll generated 255 responses from parents around the nation. We would like to thank all who participated in and shared this poll. We also congratulate the winner of the $50 gift card drawing, awarded to a parent located in Tampa, Florida.
Child Care Aware® of America collected responses from households of various sizes, income and education levels. Overall, 88% of respondents have children under five years of age.

The Child Care Information Poll identified:
Sources of information parents use and trust,
What resources parents would recommend to new families,
How parents would prefer to receive information regarding child care, and
What aspects of a child care search are the most important to parents looking for a child care provider.
Personal experiences, family, and professionals were mentioned as the most trusted source of information by parents.
Although parents identified several factors that they find important when choosing a child care provider, CPR/first aid certification, indoor/outdoor play and learning spaces, staff to child ratio, certification of staff and provider hours of operation were rated as most important when looking for new care. Cost and location, often thought to be among families' chief considerations, fell further down the priority list for these respondents.
Parents participating in the poll reported their preferred method of receiving child care provider information was through e-mail, followed by regular mail and in-person contact.
Please continue to follow this project, supported by the W.K. Kellogg Foundation, as we compile findings from our literature review, family focus groups, interviews with key informants, and the Child Care Information Poll. If you would like to learn more about Child Care Aware® of America's family engagement efforts or are interested in learning more about our Family Engagement Advisory Group, please e-mail us at FamilyEngagement@usa.childcareaware.org.