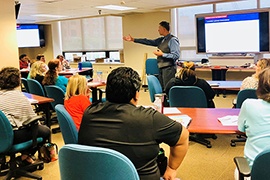 Washington, D.C. - The Administration for Children and Families has announced the creation of six new national training and technical assistance centers. These centers, will be part of a new cross-sector Early Childhood Training and Technical Assistance system, bringing together funding, knowledge, and skills from the Office of Child Care, Office of Head Start, Maternal and Child Health Bureau, and the Substance Abuse and Mental Health Services Administration.
Child Care Aware® of America is proud to be a partner in the following centers:
National Center on Early Childhood Development, Teaching and Learning: This Center will be led by ZERO TO THREE (ZTT) and will support the development of evidence-based teaching and learning practices that are culturally and linguistically responsive, and that will lead to positive child outcomes across learning programs. The Center will develop resources and offer training and technical assistance to Head Start / Early Head Start programs, early childhood specialists and child care lead agencies. The resources and training will strengthen their capacities to provide comprehensive and high quality early care and education from birth to age 5.
National Center on Parent, Family, and Community Engagement: This Center will be led by the Boston Children's Hospital Brazleton Touchpoints Center and will support family well-being, effective family and community engagement, and children's school readiness.
National Center on Early Childhood Health and Wellness: This Center will be led by the American Academy of Pediatrics and will advance best practices for linking health and early childhood education systems.
Working in conjunction with these and other organizations, Child Care Aware® of America will to work to ensure that all children – especially children who experience poverty and other challenging circumstances – have early childhood experiences that build the foundation for their success in school and in life.
"The announcements today are a testament to the important role that Child Care Resource and Referral Agencies play in parent outreach and professional development," said Lynette M. Fraga, PhD, Executive Director of Child Care Aware of America. "We are excited to be working with so many organizations that will pool their talent and knowledge into ensuring quality early care and educational experiences for all children."
Child Care Aware® of America, our nation's leading voice for child care, works with more than 450 state and local Child Care Resource and Referral agencies to ensure that families in every local community have access to quality, affordable child care. To achieve our mission, we lead projects that increase the quality and availability of child care, offer comprehensive training to child care professionals, undertake groundbreaking research and advocate for child care policies that positively impact the lives of children and families. To learn more about Child Care Aware® of America and how you can join us in ensuring access to quality child care for all families, visit www.usa.childcareaware.org.