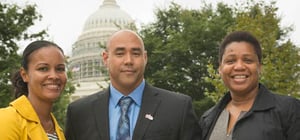 Did you miss our child care policy briefing on March 23, 2017 for Congressional staffers on the issue of child care? Visit our Facebook page to see a recording of the live coverage.
Approximately 45 congressional staffers attend the event when CCAoA discussed the state of public investments in child care and early childhood development programs and what Congress can do both maintain and improve them. This briefing also discussed importance of federal child care programs like the Child Care and Development Block Grant (CCDBG), as well as provided insight into how child care is critical to families, providers, and local businesses.
Speakers included:
Lynette Fraga, PhD, Executive Director, Child Care Aware® of America
Tonja Rucker, PhD, Program Director, Early Childhood Success, National League of Cities
Susan Perry-Manning, Executive Director, Early Care and Education Consortium
Steve Rohde, Deputy Director for Resource and Referral Services, Maryland Family Network
Child Care Aware® of America Parent
In this current funding environment we need every early childhood education advocate - whether you're a parent, provider, educator, or community member - to contact their member of Congress on this issue! If you're not attending the briefing for Capitol Hill staff, take action today!