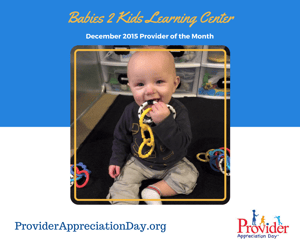 Congratulations to Tracy Ehlert and the staff at Babies 2 Kids Learning Center in Cedar Rapids, Iowa. They have been named Provider of the Month for December 2015!
Providers like Ehlert go above and beyond to be outstanding in their field. Ehlert takes her career and the professional development of herself and her staff very seriously – acting as a member on numerous councils and networks, and as an advocate and trainer for other early childhood educators.
Ehlert has a Certified Development Associate (CDA) designation, and is NAFCC accredited, earned a 5 out of 5 on the Iowa QRS, and is working toward her Bachelor's degree in early childhood education (she already has her Associate's degree in the same).
Ehlert and Babies 2 Kids Learning Center were selected in part for the December 2015 Provider of the Month because of their active parent engagement – working through various channels to reach out to parents, including email, memos, a parent board, social media, and face to face communication, along with inviting parents to participate in events and activities on-site.
But the learning for the children in her care doesn't stop when they leave her family child care home. Tracy Ehlert also sends home resources to the families so they can also learn how to support healthy growth and development in their children, and brings parents in to the center for Literacy Nights and Curriculum Night so they can learn how to integrate those lessons at home.
Focusing on play-based learning, Ehlert and her staff use developmentally appropriate settings for all the children at the Babies 2 Kids Learning Center, and support healthy meals and fitness through the CACFP program. The children even have a raised garden bed on-site where they are shown how to plant, maintain, and harvest their own food!
We're so grateful to amazing examples of child care providers like Tracy Ehlert and her staff – they're adding exponentially to the healthy growth and education of the children in their care.
Nominate an Outstanding Provider
Do you know an outstanding provider or early childhood educator who is deserving of the Provider of the Month award? Visit www.providerappreciationday.org for details on how to nominate them, and help Child Care Aware® of America and partner organizations honor those providers that go above and beyond every day!