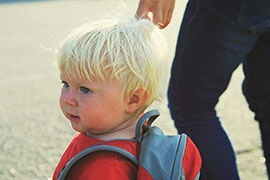 In August, we celebrated National Back to School Month with parents and providers through our Back to School Blog Series and daily back to school tips. With the end of August comes the beginning of hurricane season, and with it Hurricane Harvey and Hurricane Irma. Our emergency preparedness team has been hard at work, connecting with parents and child care providers and providing support, tools, and resources to those impacted by these storms. See the breaking news section below for information on our hurricane emergency response efforts. September is also National Preparedness Month, and we will be sharing more general emergency preparedness resources with parents and providers throughout the month.
Below are some additional highlights from August.
Breaking News
The United States has experienced an active start to the hurricane season, including Hurricane Harvey's impact on Houston and surrounding Texas counties and Hurricane Irma's impact on the U.S. Virgin Islands, Puerto Rico, and Florida. Those that care for children are entrusted with our country's greatest asset, our children. Ensuring the child care sector is prepared to respond and recover from disasters is essential to helping families get back on their feet after a disaster.
CCAoA's emergency preparedness team has been busy coordinating with both partners and CCR&Rs leading up to and following the impact of Hurricane Harvey and Hurricane Irma. The following webpage is designed to provide resources to aid the child care providers and families impacted by both Hurricane Harvey and Irma—including information on food safety, water damage, damage assessment, and disaster assistance.
Online and On-Air
CCAoA is pleased to announce a new membership webinar series! Please see below for our upcoming webinars.
Vroom App – for providers (September 19 at 8:00 p.m. ET): Brain building with Vroom is all about meeting early care providers during their daily routines. The Vroom App makes it easy to access fun Vroom activities any time, making the most of these precious years when the foundation for all future learning is happening. Join us for 30 minutes, and discover the treasure chest of Vroom tips the app has for providers.
Family & Community Engagement: Purposeful Planning for Organizational Integration (September 20 at 2 p.m. ET): Exacting optimal child and family outcomes necessitates that families are at the center of all programming efforts. CCAoA staff will lead participants through an organizational Family Engagement Planning Tool to enhance concrete conceptualization and measurement of family engagement efforts.
Vroom App – for parents (September 20 at 8:30 p.m. ET): Brain building with Vroom is all about meeting families in places they live, work, and play. The Vroom App makes it easy to access fun Vroom activities any time, making the most of these precious years when the foundation for all future learning is happening. Join us for 30 minutes, and discover the treasure chest of Vroom tips the app has for families.
Coordination of Emergency and Respite Care Post Disasters (September 26 at 2 p.m. ET): In the midst of chaos created by natural or human caused disaster, emergency child care may be needed for rescue and relief workers to enable them to do their critical jobs. In this webinar, staff from Montana's child care resource and referral agencies (CCR&Rs) will provide an overview on their role in coordinating emergency child care for front line staff, such as first responders and medical personnel.
In most cities and towns, we know where all the schools are, but what about our most vulnerable children, those birth to age 5? Through CCAoA's GIS mapping capabilities, we can help equip CCR&Rs and emergency managers across the country with this information by mapping where they are, what times they are open, and how many children are in each program. Check out our latest blog post and new page to learn more about how we can help your community prepare for an emergency.
Child Care Aware® of America's emergency preparedness team, in partnership with Tom Copeland, one of the nation's most prominent experts in family child care business issues, is pleased to share two new resources designed to help the child care field gain a greater awareness around emergency preparedness so that child care businesses can recover quickly following a disaster. These resources are now available for wide distribution to family child care providers to help them understand how to take a proactive approach in ensuring that their insurance policies will provide adequate coverage in the event of a disaster. Download Your Copy of How Insurance Protects You in an Emergency and Reducing the Financial Toll of Emergencies.
Around the Country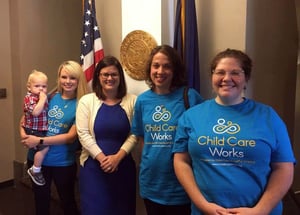 Child Care Works family advocates from across the country took part in the summer campaign "Baby's First Town Hall" this August. Most of the visits took place the week of August 28, with advocates making appointments to see their legislators while they were back in their home districts for the August recess. As part of the campaign, 39 advocates attended appointments with lawmakers in 19 states, asking for funding for four important child care and early learning programs:
CCDBG
21st Century Learning Programs (afterschool care)
Early Head Start-Child Care Partnerships
CCAMPIS program (child care on college campuses)
You can find more information on these programs and the specific legislative asks in our Baby's First Town Hall one–pager that advocates have been sharing with their elected officials. You can get involved in Baby's First Town Hall from home, just let us know you took action online by posting to social media with the hashtag #BFTH17.
Kim Engelman, Chief Family and Community Engagement Officer, helped coordinate Congressman Yoder's district event for the PACE Act—working in partnership with Yoder's district and D.C.-based offices and a local Overland Park, Kansas child care center. CCAoA was noted in his press release. Kim coordinated the participation of several Kansas family advocates, child care resource and referral professionals, child care provider representatives, local child care licensing professionals, and the state association for the education and young children. It was a fantastic turnout with media present as well.
Member Connections
Registration for Child Care Aware® of America's Leadership Institute, Growing Momentum toward Breakthrough Solutions, is now open! The 2017 Leadership Institute will facilitate actionable discussions on expanding our collective networks and strengthening our state and local strategic presence. Join us for the child care thought-leadership event of the year on October 11-13, 2017 in Kansas City, Missouri at the InterContinental Hotel at the Plaza. This annual event addresses policy, practice, education, and the future of leadership in the child care resource and referral industry.
We also invite you to save the date for our 2018 Symposium, which will take place April 17-21, 2018 in Washington, DC. We will be celebrating 30 years of working to strengthen a quality child care system.
ICYMI: August in the News
CCAoA is pleased to announce that Yvette Fuentes has joined the organization as Deputy Chief of Public Policy. Yvette Fuentes brings with her extensive experience in providing services to young children from low-income families as well fighting for policies that strengthen communities through access to affordable child care. She will be supporting us by providing leadership and outreach to the government, CCAoA membership, and the general public on issues relating to the early child care and education system. She will also refine and lead CCAoA's policy and advocacy strategy.