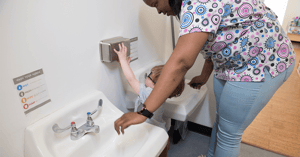 Are you interested in health news as it relates to child care? Health Round-Up is a monthly subscription-based newsletter for child care staff, family child care providers, and state-level ECE stakeholders.
The newsletter contains four key items:
Health news and information
"Research Round-up," a selection of recent research related to child care and health. Includes a synopsis of the research and 1-2 policy or practice implications for the child care field.
Resource Spotlights: Brief description and link to child care health resources (technical assistance, tip sheets, training modules) provided by our partners at the National Center for Early Childhood Health and Wellness, which helps amplify the work of the national center and the academy.
Provider Spotlights: Spotlights on providers who are doing innovative work to create healthy environments in their child care settings. For example, a provider who has a "waiting wall" of tips and resources for de-stressing where staff line up to wait to use the restroom.