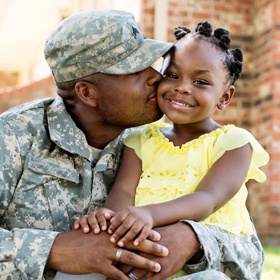 Arlington, VA – On February 22, the Army Fee Assistance Program officially began its transition from the General Services Administration to Child Care Aware® of America.
The Army Fee Assistance Program is an initiative that assists Army families in reducing the cost of off-post child care when on-post options are not available or when families are geographically separated from on-post child care options.
Army families currently enrolled in the program through the General Services Administration will be transferred to Child Care Aware® of America in seven phases, based on the state in which the family receives care. With the launch of the transition, families in Phase 1, which includes Wyoming, Vermont, Virginia, Maryland, District of Columbia, New Hampshire, and Maine, are currently being transferred to Child Care Aware® of America.
Families who have not yet received notice that they are being transferred should continue to work with the General Services Administration until they are notified that their phase is beginning. The transition is projected to last through October 2016, at which time Child Care Aware® of America will assume full administrative responsibility for all Army families and child care providers in the program.
In addition to launching the transition on February 22, Child Care Aware® of America also began accepting applications from all new Army families and child care providers wishing to participate in the program.
For the most up to date transition information and to interact with other Army families, like the Army Fee Assistance at CCAoA page at facebook.com/armyfeeassistanceatccaoa and follow them on Twitter http://www.twitter.com/AFA_CCAoA. In addition, check the transition website at armyfeeassistancenaccrra.org for continuous updates throughout the transition.
About Child Care Aware® of America
Child Care Aware® of America is our nation's leading voice for child care. CCAoA works with state and local Child Care Resource and Referral agencies (CCR&Rs) and other community partners to ensure that all families have access to quality, affordable child care. CCAoA leads projects that increase the quality and availability of child care, offer comprehensive training to child care professionals, undertake research, and advocate for child care policies that improve the lives of children and families. To learn more, visit usa.childcareaware.org. Follow them on Twitter @USAChildCare and on Facebook at facebook.com/usachildcare.