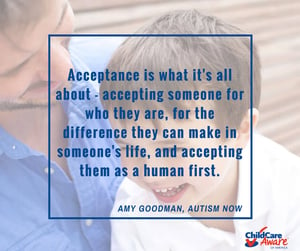 Awareness of Autism Spectrum Disorder (ASD) has been in the news recently, with more and more advocates and celebrities sharing their stories – whether it's helpful to the diagnosis of autism spectrum disorder or not.
But when Jordan Spieth won the Masters championship at Augusta National at the age of 21 last week, tying the record set by Tiger Woods in 1997, Spieth quickly turned from thoughts of his big win to his sister Ellie, who was not able to attend the tournament, and has autism.
"I love having her around. She's an incredible sister, my biggest supporter. She is somebody who you can watch and then reflect on the big picture of life and understand that all these frustrations in a day, or in a round of golf, are really secondary.

We wouldn't have that realization without her."
It's that kind of acknowledgement and love that reminds us all of the true purpose of Autism Awareness and Acceptance Month.
During the month of April, we want to take a moment to recognize the unique abilities and strengths of individual children with ASD, and share a few insights and resources from partner organizations.
In 2014, Sesame Workshop, the nonprofit organization behind Sesame Street, announced their partnership with Autism Speaks and other major autism awareness groups. Their campaign, "See Amazing in All Children" aims to reduce the stigma surrounding children with autism by dispelling some of the common misconceptions around autism spectrum disorder (ASD), and sharing quality resources for children and their families.
Autism Speaks offers a Puzzle Piece Project Tool Kit for grades K-12, meant to increase children's understanding of autism through age-appropriate lesson plans and activities. It even includes samples of frequently asked questions from kids, so you know what to expect and how to respond to the natural curiosity of children around ASD – and we all know how curious our little ones can be!
The Administration for Children and Families has reaffirmed their commitment to individualized learning and development support for all children, including those with ASD, as well as the continuation of individualized, high-quality early learning programs to young children with disabilities through Head Start.