Arlington, VA – Child Care Aware® of America (CCAoA), National Association for the Education of Young Children (NAEYC), National Association for Family Child Care (NAFCC), National Head Start Association (NHSA), and National Indian Child Care Association (NICCA) would like to congratulate Tessie Ragan and the staff at Perfect Start Learning in Edwards, California (formerly located in Edgewood, Maryland). They have been named Provider of the Month for April 2016.
The Provider of the Month campaign was launched in April of 2015 in conjunction with Provider Appreciation Day on May 8 to honor outstanding child care providers and early childhood educators who exemplify what it means to be a high-quality care provider for children.
Providers like Ragan go above and beyond to be outstanding in their field—and Ragan is no exception, having earned her B.S. in Birth – Kindergarten Education and starting her Masters degree in Preschool Education. She hopes to eventually earn her Ph.D. and strives in her professional life to make family child care and early childhood education a priority for legislators.
The family engagement at Perfect Start Learning reads like a template for providers on how to effectively engage parents in child care. Events throughout the year include a Mother's Day lunch, a Father's Day pizza party, and an end of the year/preschool graduation. Parents are also invited to attend craft activities or come in to read to the children during story time, and are encouraged to volunteer for field trips. Suggestions from parents for additional activities are asked for and welcomed at Perfect Start Learning. And all this is in addition to the regular monthly email newsletter that parents receive with tips on how to connect school learning to home activities and a schedule of learning themes for the month.
Ragan and Perfect Start Learning practice extensive STEAM (science, technology, engineering, arts, and math) activities during the week, including use of an in-house science center, nature walks, yoga, dance, and in-class field trips with professionals.
Allowing the children to explore their passions in the STEAM fields, Ragan says she always has materials at the ready when children show an interest in a particular subject. Recent activities have included planting fruits and vegetables in the backyard, and then harvesting them to make healthy snacks.
Ragan states her goal with the children in her care is to make sure the children love learning as much as she did as a child, while introducing them to a wide range of experiences that will only help and inspire them as they continue on in their education.
She was inspired to become an in-home family child care provider by her mother, after choosing education as her field of study after leaving the military. Her focus on early childhood education helps to ensure the children at Perfect Start Learning are ready to start kindergarten when they leave her family child care home.
We are so grateful to Tessie Ragan — she is setting the standard for child care providers through her strong focus on preschool learning and creativity.
Congratulations to Perfect Start Learning, an outstanding child care provider in Edwards, California!
Nominate an Outstanding Provider
Do you know an outstanding provider or early childhood educator who is deserving of the Provider of the Month award? Visit www.providerappreciationday.org for details on how to nominate them, and help Child Care Aware® of America and partner organizations honor those providers that go above and beyond every day!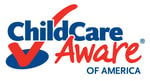 Child Care Aware of America
Child Care Aware of America is our nation's leading voice for child care. CCAoA works with state and local Child Care Resource and Referral agencies (CCR&Rs) and other community partners to ensure that all families have access to quality, affordable child care. CCAoA leads projects that increase the quality and availability of child care, offer comprehensive training to child care professionals, undertake research, and advocate for child care policies that improve the lives of children and families. To learn more, visit usa.childcareaware.org. Follow them on Twitter @USAChildCare and on Facebook at facebook.com/usachildcare.

National Association for the Education of Young Children
NAEYC's mission is to promote high-quality early learning for all children, birth through age 8, by connecting practice, policy, and research. NAEYC advances a diverse, dynamic early childhood profession and supports all who care for, educate, and work on behalf of young children. Learn more at www.naeyc.org.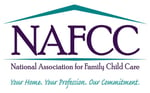 National Association for Family Child Care
The National Association for Family Child Care (NAFCC) is dedicated to promoting quality child care by strengthening the profession of family child care. NAFCC accomplishes this mission by strengthening state and local associations as the primary support system for individual family child care providers, promoting a professional accreditation program which recognizes and encourages quality child care for children, representing family child care providers by advocating for their needs and collaborating with other organizations, and promoting the diversity of the family child care profession. Learn more at www.nafcc.org.

National Head Start Association
The National Head Start Association (NHSA) is a non-partisan, not-for-profit organization committed to the belief that every child, regardless of circumstances at birth, has the ability to succeed in life. The opportunities offered by Head Start lead to healthier, empowered children and families, and stronger, more vibrant communities. NHSA is the voice for more than 1 million children, 200,000 staff and 1,600 Head Start grantees in the United States. For more information about NHSA, visit www.nhsa.org.

National Indian Child Care Association
The mission of National Indian Child Care Association is to unify tribes and tribal organizations to promote high quality culturally relevant child care and development. National Indian Child Care Association will provide leadership, support, and communication on behalf of Native American children, families, and communities. To learn more about NICCA, visit www.nicca.us or follow them on Facebook at facebook.com/nicca.us.