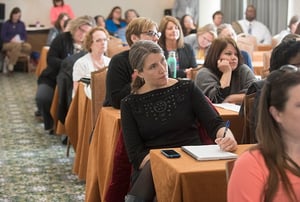 Join us in the nation's capital for CCAoA's 2018 Symposium and Annual Meeting. It is being held at the renowned Marriott Marquis—one great reason to attend. And while we believe that there are countless other reasons why you should participate, we've narrowed it to the "Seven Best":
1. Hear from Outstanding Experts in the Community
Our speakers are leaders, practitioners, researchers, government/state network professionals, and peers. You'll get a solid grounding in current policy trends, learn about new research, and gain insight into innovative practices that some of your peers are using, and that might change how you approach your daily work. This year we are excited to bring you a special plenary session: A Framework for Financing Early Care and Education. It will feature a panel from the National Academies of Science, Engineering, and Medicine's committee on Financing Early Care and Education with a Highly Qualified Workforce. You will be one of the first to hear from them following the release of their report in February. We will also offer a question-and-answer session later in the day.
2. Find Solutions
No matter how long you've been working in the child care community, there likely are still challenges you're struggling to manage. Trends, new strategies, and innovations (or policies) are being introduced all the time. You'll have an opportunity to explore solutions to your challenges through interactions with industry leaders and peers. This year our breakout sessions are arranged into tracks to help you tailor your learning to meet your own individual needs. Our tracks include: Business/Organizational Systems, Early Childhood Education, Professional Development, Family and Community Engagement, Policy/Advocacy, and Health.
3. Share Ideas and Learn From Others
Having an opportunity to share your story and ideas not only helps others but boosts your confidence in the work you do. You'll have a chance to do both—share and learn—during our engaging breakout sessions. You will also be able to sign up for a one-on-one Technical Assistance session with our Child Care Aware® of America team members. As your National Association, we are here to support you and help you tackle those challenges back home.
4. Put Faces to Names
Today we all have the ability to make strong, positive, professional connections using digital technology. There's no denying that technology allows us to connect, collaborate, and share information easily. Yet, there's something powerful about meeting your online contacts in-person—it benefits you and your profession to make these connections. So, we have reserved time in the schedule for a special networking breakfast where you can join colleagues from across the country to talk about issues important to you or just catch up over a cup of coffee.
5. Putting Words into Action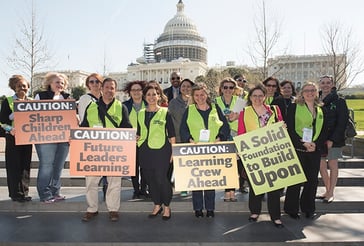 Our convening would not be complete without a Day on the Hill talking to legislators about issues affecting child care and early childhood education. And this year, we have specific asks in mind for our elected officials. To help you prepare for the day we will have Celinda Lakes, President of Lake Research Partners, join us the afternoon before to share findings from recent polling on early childhood education that reveals what the public wants. To kick off our Day on the Hill we will be rallying on Capitol Hill! Our family advocates and policy staff will join us to give their perspective on the issues, and then all of us will take the fight right to Congress.
6. Be a Part of Our 30-Year Celebration
Our organization is 30 years old! To close out our 30th Anniversary campaign, we are hosting a gala and fundraiser on April 20, 2018 and we hope you'll join us. The event will include a sit-down dinner, a silent auction, and live music—plus some special invited guests. It will be a perfect way to connect and celebrate with our child care peers. Find out more about this event.
7. Have Fun!

There's also the fun factor. We know that people who include fun in all aspects of their lives [including work lives!] tend to be happier, healthier, and less stressed. Fun and learning should go together. So we are introducing a new way to unwind and have fun during the Symposium, Ignite Studio. In the Ignite Studio, you will be able to enjoy the company of friends while you paint a masterpiece or catch up while you craft together. More details to come! We also encourage you to take the time to enjoy some stress-relieving, high-impact networking activities, tour the nation's capital, or explore the exquisite treasures of the Smithsonian Institution.