In 2018, families joined Child Care Aware® of America in a shared mission to move the needle on quality and affordable child care forward. Several issues topped their list of concerns:
Child care is one of their biggest expenses, outpacing rent/mortgage payments and college tuition in many states

Many communities experience shortages in quality child care options, especially for infants and toddlers and children with special needs

Gaps in regulations and oversight weighed heavily on the minds of those touched by tragedy or injury that occurred while their loved one was in child care
The low wages and lack of benefits for early childhood educators contribute to these challenges and present new ones
While families have a diversity of reasons for speaking out, they stand united in their call for a safe, accessible, and high quality child care system that is equipped to meet the needs of all families!
Celebrating the Role of Families
As the year ends, let's take a moment to celebrate families and the role they played in advancing the child care system.
Families helped build awareness of quality child care and early brain development in their homes, child care programs, and social networks.
Tens of thousands of parents became a resource for their families and friends by arming themselves with child care and early learning resources from our Child Care Aware® website, call-center, and online chat.
Families used Vroom to engage their children in brain building activities and shared their Aha Moments with others.
Families, from coast to coast, led conversations in their states and communities.

In August, Armed with State Fact Sheets and ready to share their concerns, families attended town hall meetings, lawmaker forums, and office meetings with their legislators during our Baby's First Town Hall.
In October, a panel of parents met with 131 early care and education system professionals from around the country to highlight the impact of father engagement, advocacy, access to quality child care and intersections between the foster care system and child care.
Family perspectives were influential on the national stage.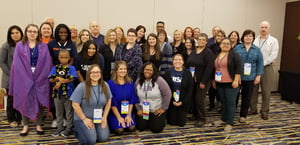 Parents slid behind their keyboards and cameras to be guest contributors for our Family Voices Blog and Vlog Series. Their stories drew attention to what works in child care and early learning, the changes needed, and the strategies that can help.
In April, 37 family advocates from 15 states participated in our annual Child Care Works Summit. They joined forces with system professionals to conduct 400 visits with lawmakers where they advocated for the prioritization of child care and early childhood education in federal budgets and policies.
During our Capitol Hill Briefing on the US and the High Cost of Child Care, a family advocate was at the table to share her powerful child care story.
Reflecting on 2018 Achievements
These are just a few of the examples of how families are working at home, in their communities, and nationally to ensure our child care and early learning system is primed to meet the needs of our nation's youth and their families. Their contributions were key to bringing about federal funding victories! In fiscal year 2019 we will see a $50 million increase to the Child Care and Development Block Grant (CCDBG). Funding that will help states comply with CCDBG mandates, strengthen regulations, and expand programming to children from families with low-incomes. Additionally, Head Start/Early Head Start will receive a $200 million increase, while Child care Access Means Parents in School (CCAMPIS) and Preschool Development Grants will retain funding at FY 2018 levels.
Opportunities in 2019
In 2019, Child Care Aware® of America will continue to amplify family voices in programs, policies, and the early childhood system by elevating the issues that matter to you the most! Wondering what fresh opportunities await you?