Help CACFP Celebrate a Milestone
The program turns 50 on May 8, 2018. Nemours Children's Health System and the National Child and Adult Care Food Program (CACFP) Forum will be creating a billboard-sized birthday card on Capitol Hill. The card will be a mosaic of thousands of images from community programs serving CACFP meals and snacks. (Sorry, the deadline to submit photos has passed.) Some providers are hosting CACFP birthday parties in their programs. If you're interested, here are some places to go for party ideas: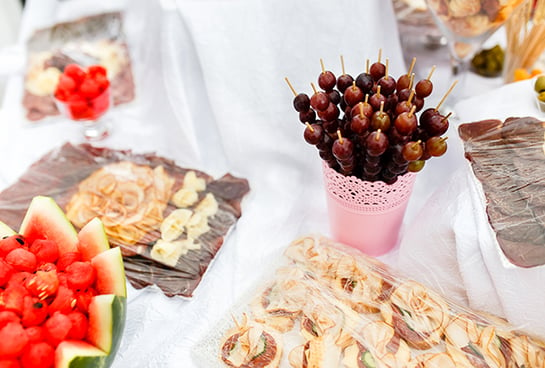 Discover MyPlate offers ideas to help you incorporate healthy snacks and physical activity into classroom celebrations for holidays and the end of the school year.

Healthier Generation has ideas for non-food celebrations as well as healthy snack and beverage ideas to use in your classrooms.
This Month's CACFP Halftime Webinar: Offer vs. Serve in the CACFP
This webinar will focus on the option to use Offer Versus Serve (OVS) meal service at breakfast, lunch and supper for at-risk afterschool and adult participants only.
Date: Thursday, April 19, 2018
Time :2:00-2:30 p.m. ET (in English) Register
3:00-3:30 p.m. ET (in Spanish) Register
The National Children Nutrition Conference is Almost Here
This year's conference will take place April 19-21, 2018 in San Antonio, TX. Participants will have a chance to learn from USDA, hear about a new training program being developed and select from more than 130 workshops. You can see two of our colleagues, Jessica Rose-Malm and Krista Scott, at the conference. They're presenting! For more information and last-minute registration, click here.
Team Nutrition Food Buying Guide Mobile App
The app is now available for both Android and iOS platforms. It can help you determine how much local food to purchase for your school meal or CACFP site. Learn more
Browse these recipes inspired by cultures around the world.