As August winds down and we get ready for a new school year we all have plenty of tasks to cross off our "Back to School" list – getting school supplies, nailing down school and activity schedules, hurriedly helping our children finish their summer reading, and even sometimes helping our children start their summer reading!
But at Child Care Aware® of America, we'd like to add one more item to your list. And we promise it'll help with school readiness…for all children.
We know that early childhood education and child care promotes school readiness, which increases the chances of strong academic performances and subsequently higher graduation rates. But investments in early learning opportunities are vital to the growth of our economy and are lagging behind where they need to be to fully fund states so they can comply with new CCDBG requirements.
In addition to fully funding CCDBG, Child Care Aware® of America also encourages you to support the President's request of $10.1 billion for Head Start. Funding for Head Start will help expand access to critical early education programs for low-income children, as well as expand the Early Head Start-Child Care Partnership Program. Both of these budget items are critical for the future success of our children.
The last item on your "Back to School" list for all children is to contact your member of Congress and ask him or her to prioritize children in the federal budget for next year.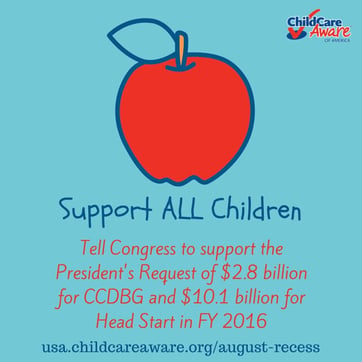 We make it easy for you to do with our draft messaging – take action today! And help us spread the word to other advocates using CCAoA's August Recess Toolkit, which includes:
A sample letter to you member of Congress,
Sample letter to the editor of your local newspaper,
Sample invitation to your member of Congress to visit a local child care facility,
Talking points for a meeting with your member of Congress,
And pre-written social media posts and graphics.
Send a message to your member of Congress today!