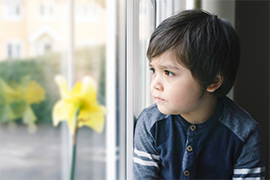 Child Care Aware® of America (formerly the National Association of Child Care Resource & Referral Agencies, NACCRRA), has released a new research paper, "Why Aren't We Outraged? Children Dying in Child Care Across America."
The Child Care and Development Block Grant (CCDBG), the law that allocates funds to states for child care and sets the framework for state child care laws, does not require the reporting of child fatalities in child care settings. While most children may be safe in child care, children should not be left to chance.
Child Care Aware® of America's new research paper reviews state requirements with regard to the reporting of the deaths of children in child care. The paper calls for all child deaths in child care settings to be reported to state licensing offices and state child care administrators offices within 48 hours of their occurrence and that the data be aggregated and sent to the U.S. Department of Health and Human Services on an annual basis.
Child Care Aware® of America has been working with parents across the country whose infants or young children have died. Many of these deaths were accidents but as we listened to the stories told by the parents or relayed through newspaper accounts, we saw a pattern. Most of the tragedies could have been avoided with either some minimum training or more effective monitoring.
When we sought to calculate the number of deaths in child care, we saw that some states don't require deaths in child care to be reported to state licensing agencies and that states that did require reporting varied in what information was reported. Collecting data is not meant to sensationalize these tragedies in any way. Rather, the data would help inform policymakers and state administrators so that minimum protections for children can be strengthened such as requiring basic safety and training that could prevent such tragedies from occurring.
Children should be safe in child care. If we can collect information to better promote their safety, we should. As the Child Care and Development Block Grant is reauthorized, let's collect the data that will help prevent tragedies and ensure that effective health and safety, training, and monitoring is part of the law.