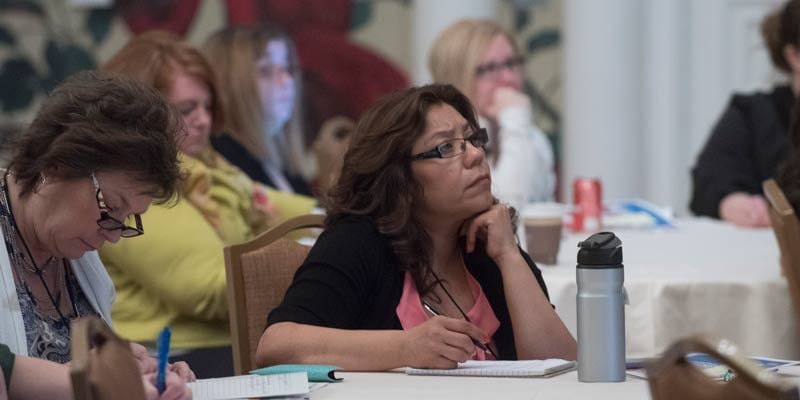 Thank you for your interest in applying to present at Symposium 2020 on May 3-6, in Crystal City, Virginia! The deadline for proposal submissions is December 6, 2019. Proposals must be submitted via the online submission form. Presenters will be notified via email of their selection status by January 30, 2020.
Please review our FAQs below. If you have additional questions, you may email us at symposium@usa.childcareaware.org.
---
Presentation FAQs
How many attendees will be at Symposium 2020?
• We are expecting approximately 300 total attendees.

• Individual sessions may have up to 70 people.
What are sessions like?
• All sessions are 90 minutes.

• Rooms will be set up in either theater style/classroom/crescents and

include a head table and podium.

• All rooms will be supplied with an LCD projector, sound, screen, and an A/V cart.

Additional AV support will be considered on a case by case basis.
What do presenters need to bring?
• A laptop for their presentation

• Back-up copy of their presentation (on a thumb drive)

• Copies of any handouts or other materials for distribution to attendees
How will you select presenters?
• A team of reviewers will select presentations based on their topic, how well it relates to our audience and have best practices for adult learning.

• We are looking for proposals that demonstrate innovation and thought leadership.

• We will notify

presenters by email of their selection status by January 30, 20

20

.
What else do presenters need to know?
• All selected presenters must sign a release form allowing Child Care Aware® of America to photograph and/or video the session.

• All selected presenters must pay their own travel, lodging and expenses for the conference.

• All presenters must pay their

registration fee of $479 by February 26 in order to present and be included in the program book

.
How can I sponsor Symposium 2020?