Browse our Supplemental Resources to the 2019 Report
Click on one of the links below to access each of our accompanying resources to The US and the High Price of Child Care 2019 report.
Price of Care Appendices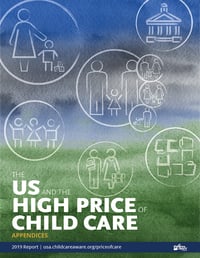 The 2019 US and the High Price of Child Care Appendices includes graphics that include, but are not limited to:
Least affordable child care by state for infants, toddlers, 4-year-olds and school-age children

Ranking of affordability by state for single-parent households
Average annual price of full-time center-based or family child care by state
---
Price of Care County Price Supplement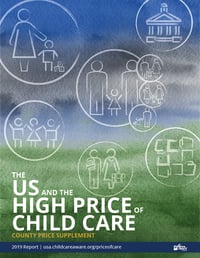 Child care prices are reported at the county-level of 11 states for infant child care and child care for four year olds where available. To determine the affordability of child care prices by county, we compared the average price of center-based and family child care to household median income by county. The states in this supplement include: Alaska, Delaware, Iowa, Maryland, Massachusetts, Minnesota, Missouri, Nevada, New Hampshire, Oklahoma and Wisconsin.
---
Price of Care Social Share Kit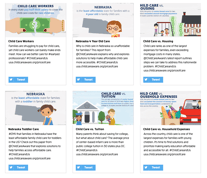 You can help spur the conversation about the high price of child care. Use our social share kit to spread the word. The kit includes facts about the least affordable states for child care, policy recommendations and more. Take action by posting these messages to your social media channels today. You can also tweet directly by clicking this link.
---
Price of Care Webinar Recording & Slides
Our member webinar originally was recording on October 16, 2019 as an exclusive preview of the report for our members. Our research team gives an overview of the report findings and differences from last year, discusses policy recommendations, and shares two case studies from Louisiana and Seattle metro area. Watch below.
---
Price of Care Parent Tip Sheet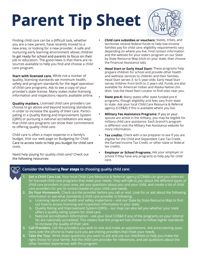 Finding child care can be a difficult task whether you're a new parent, moving, or looking for a different provider. A safe and nurturing early learning environment allows children to get ready for school and parents to focus on their job or education. Use these resources to help you find and choose a child care program that's best for your family.
---
Price of Care Customizable Graphics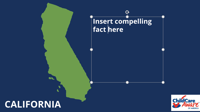 Want to spread the word about the price of child care in your community? Our customizable graphics make it easy for you to create your own social share tiles with Microsoft PowerPoint.
Get in Touch with Child Care Aware® of America