Page last updated: June 23, 2020, 3:34 p.m. EDT
Child Care Aware® of America (CCAoA) is committed to providing news and the latest information to help child care providers and Child Care Resource & Referral (CCR&R) agencies as we closely monitor the situation around the coronavirus(COVID-19) outbreak.
We are also interested in learning how coronavirus has impacted your community. Your comments are being used to inform CCAoA and policymakers.
Don't miss our other coronavirus hubs:
Coronavirus Hub for Families | Coronavirus Hub for Policymakers
---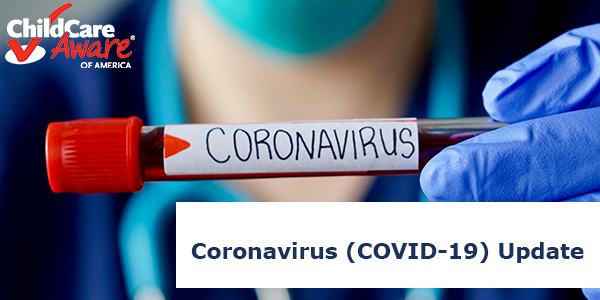 What is the impact so far of the COVID-19 outbreak on child care throughout the U.S.?
CCAoA has heard from several child care providers around the country who are very concerned about the impact of the coronavirus on the children and families they serve, and on their staff members. They are also concerned that they may need to close and could lose their business. We've also heard from parents who don't know where to turn for backup child care if their primary providers are forced to close. One of our members, Child Care Aware® of North Dakota, has tips to help parents create a backup child care plan.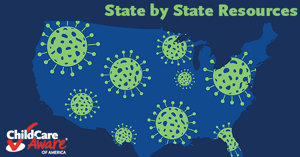 We're currently mapping states' response to the pandemic— whether child care is open only for essential workers, open but with revised regulations, etc. —which you can find on our State by State Map. You can also click on the map on this page to start exploring policy changes in your state.
We anticipate that child care providers will need additional support. While this is a quickly evolving situation, we're listening closely to the needs of providers and sharing their voices with policymakers as well. Share your story at the bottom of this page to let us know how coronavirus has impacted your business and community.
Finally, CCAoA has created Grab 'n' Go Resources to help child care programs stand up or bolster an existing infectious disease response plan. We also offer templates providers may adapt to communicate with staff about coronavirus and sample letters for providers to communicate with families about enhanced health and safety measures.
What business supports are available for child care professionals?
What should child care providers do to respond to the impacts caused by the pandemic?
Most child care providers are very familiar with the steps needed to prevent the spread of infection and are increasing their vigilance because of the Coronavirus. For example, providers already know the importance of children and program staff washing their hands properly and often. They also make sure children and adults are using proper coughing and sneezing techniques. Routine cleaning and disinfecting are also second nature to providers and done regularly so they are most likely already a step ahead of other businesses and workplaces.
In addition, preparedness and planning are important. Our emergency preparedness program helps providers prepare for and respond when the unexpected happens.
CCAoA suggests that local providers reach out to their local or state Child Care Resource and Referral (CCR&R) agency to open communication and collaborate on how to respond to COVID-19. Because of the work that CCR&Rs do and the important role they play in the child care field, CCR&Rs are uniquely positioned to promote child and community health.
CCAoA also advocates for workers to have access to paid sick days to care for themselves or for sick loved ones. We know that one of the best ways to prevent the transmission of communicable diseases is to ensure that sick individuals can stay home. Without job-protected paid sick days, this is an untenable choice for too many people – families and child care providers alike – who cannot risk losing wages or being fired even if they are sick.
Additional resources:
Should child care programs in your area stay open?
Check out our decision tree in this blog post: When Should I Close My Child Care Program? A Coronavirus Flowchart. Answer the questions in the chart to determine whether your program should stay open in the midst of the pandemic. You can also download the chart as a PDF if you'd like to save or print it. The Vermont Department of Health has also developed guidance child care programs should consider when deciding if they should close (PDF download).
The CDC recently released updated Guidelines for Child Care Programs that Remain Open. It should be used in conjunction with CDC's guidance for administrators of child care programs and K-12 schools and does not supersede state and local laws and policies for child care programs.
Additional resources:
What should Family Child Care providers know at this time?
How can CCR&R agencies

support their communities in reopening child care?
We are committed to supporting our member organizations across the country through the development of resources, tips and tools for the child care community. As child care programs across the country are reopening, CCR&Rs can use this infographic to guide conversations with providers in their community and state, and offer considerations when reopening after the pandemic or transitioning back to daily operations after providing emergency child care for essential personnel. Also available in Spanish.
What is Congress doing in response to COVID-19 to protect the child care community?
What does Child Care Aware® of America recommend the government do to support child care?
CCAoA joined coalition partners on a letter urging Congress (PDF download) to provide significant and dedicated funding for child care programs during this public health crisis.

CCAoA and partner organizations have asked the Office of Child Care (PDF download) to provide guidance to states about the flexibility they can offer under current law.
CCAoA and partner organizations urge the U.S. Department of Agriculture (PDF download) to use its administrative authority to ensure access to meals during this national emergency.
How can child care professionals support families during the coronavirus outbreak?
The best way that child care professionals can provide support to families is by continuing to share related resources that will help them talk with their children and cope during this stressful time. We've compiled some resources that you can share with the families you serve below:
What information is out there around food and nutrition services for children and families?
What else do I need to know about the novel coronavirus?
The American Academy of Pediatrics - The AAP has a series of resources that can help you protect your health and your business in situations where lots of children or adults are getting sick.

The World Health Organization's Myths about COVID-19 - Covers common myths, such as whether or not the virus can spread in a hot climate (it can).

Check out these easy-to-read infographics about the disease, flattening the curve and mentions in the media.
How has coronavirus impacted your community? How are you preparing? Your comments help inform the work of CCAoA and policymakers.