Page last updated: July 15, 2020 7:36 p.m. EDT
Child Care Aware® of America (CCAoA) is committed to providing news and the latest information to help families as we closely monitor the situation around the coronavirus(COVID-19) outbreak and its impact on child care accessibility and safety. Check out our resources and frequently asked questions below.
We are also interested in learning how coronavirus has impacted your family. Do you have child care? Are you an essential worker looking for providers who can care for your children? Share your story by submitting the form at the bottom of the page. Your voice informs our work and helps state and federal policymakers understand what's happening across the country.
Don't miss our other coronavirus hubs:
Coronavirus Hub for Policymakers | Coronavirus Hub for CCR&Rs and Child Care Providers
---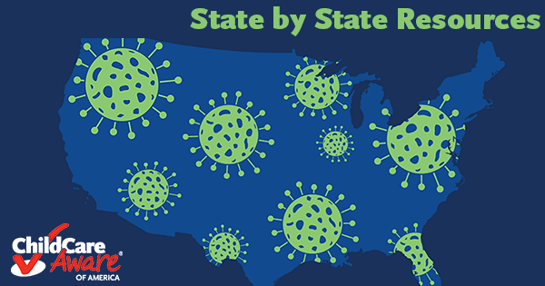 What is the impact so far of the COVID-19 outbreak on child care facilities throughout the U.S.?
CCAoA has heard from several child care providers around the country who are very concerned about the impact of the coronavirus on the children and families they serve, and on their staff members. They are also concerned that they may need to close and could lose their business. We've also heard from parents who don't know where to turn for backup child care if their primary providers are forced to close.
Let us know more about what kinds of impact you're seeing in your community by filling out the form at the bottom of this page.
Are child care programs open in my state?
Want to find out child care closures and updates to state-wide policies? Use our State-by-State Map to find out more about local information. Click the image of the map on this page to get started.
Is it safe to bring my child to child care?
From CCAoA - T

he coronavirus crisis may make you wonder if it is safe to send your child to a

child care

program.

We offer information on enhanced health and safety measures child care programs

may take when enhanced health and safety measures continue to be important. This information applies

to both family child care homes and child care center settings, unless otherwise specified. You may use the

information and considerations as a resource to inform your child care program decision making.

Download the PDF

. Also available in Spanish.
When to Keep Your Child Home from Child Care

- from the American Academy of Pediatrics (AAP), this page summarizes the AAP's formal recommendations around when it's ok to bring your child to child care and what conditions would prevent them from attending.
How do I find backup child care?
One of our members, Child Care Aware® of North Dakota, has tips to help parents create a backup child care plan.
What is the government doing in response to the pandemic?
What do I need to know about coronavirus (COVID-19)?
We encourage parents to visit cdc.gov and their local health department's website for the latest information about the coronavirus.
The AAP's 2019 Novel Coronavirus Page

- The AAP's website for families, HealthyChildren.org, recently released a summary web page about the virus, its symptoms, who's at risk and how to prepare for coronavirus.

The World Health Organization's Myths about COVID-19 - Covers common myths, such as whether or not the virus can spread in a hot climate (it can).
Check out these easy-to-read infographics about the disease, flattening the curve and mentions in the media.
What resources can help me talk with my children about what's going on?
Additional Resource:
How has coronavirus impacted your family? Your comments help inform the work of CCAoA and policymakers.