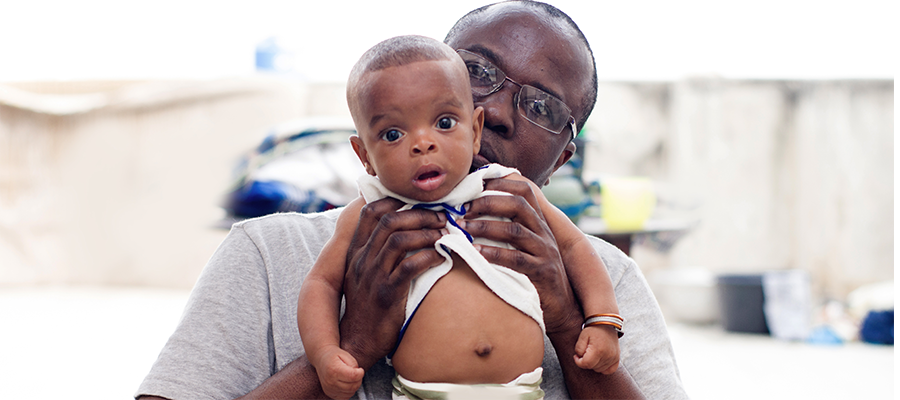 COVID-19 has changed the day-to-day lives of many families with babies and young children. Some parents are seeking ideas for additional ways to interact with their children because they are now working from home or spending more time at home because of social distancing. On the other hand, some parents may have less time with their children because they are working on the front lines of the pandemic: health care professionals, emergency responders or other workers in essential businesses or services. For all families, everyday routines such as mealtime, playtime or bedtime – or even diaper changing – offer opportunities to connect with children and build their developing brains. Vroom®, a global early childhood initiative, offers free tips to parents on how to add learning to daily routines.
Vroom has taken research on early brain development out of labs and created tips for parents that help them support their children's brain development. Each science-based Vroom Tip offers an idea of how to engage a baby or child in a back-and-forth interaction during common, everyday routines and random moments with children. There are over 1,000 Vroom Tips™ that are free and accessible to families through a Vroom app, the website and Vroom by Text™. The wonderful part is that parents only need themselves and their children to use Vroom Tips to build their children's brains during everyday moments!
Resources for Supporting Families with Young Children at Home during COVID-19
COVID-19 has changed the way most CCR&R agencies function on an ordinary day; however, agencies have quickly and nimbly adapted to continue providing services and outreach to families, child care programs and community partners. CCR&Rs are finding alternative and creative ways to provide outreach through social media, adding resources and links on agency websites, disseminating newsletters and more.
Child Care Aware® of America recently developed three resources embedded with brain-building tips to help families and caregivers integrate brain-building moments into their morning, afternoon, and evening routines with babies, toddlers and preschoolers.
CCR&R agencies can now access and share these resources with families and caregivers. These resources are another opportunity to empower families and make everyday moments, no matter how big or small, opportunities to build children's developing brains. Share this resource with families in your community and also with child care programs to encourage and support their efforts in engaging families.
Browse Our At Home-Tips
CCR&R Agencies and Families Find Value in Brain-Building Tips
According to a CCR&R in Indiana, "Vroom is relevant for every parent." (CCR&R) agencies are finding value in sharing Vroom Tips with families in a variety of ways including during outreach events, in newsletters, on social media, and during home visits, workshops and more. For example, a CCR&R in New York found opportunities to talk about early brain development and share Vroom Tips with families during home visits. During a follow-up conversation, one of the families commented that the Vroom Tips they received during the home visit made them more conscious of their interactions with their baby. "It [Vroom Tips] made playtime more intentional and gave some new ways to interact." Another example of integrating brain science into outreach comes from a CCR&R in Montana that has been providing virtual storytimes in response to COVID-19 to support families and child care programs. She has found that "Vroom Tips are a perfect fit" for her storytimes.
Here is a Brain-building Tip you can share:
Skin Sensations

Tip:

Talk to your child about how things feel on their skin: "Your shirt is soft." "The wind is cold." "The ice cube is slippery." See how they react and continue the conversation: "You like the warm water in your bath!"

Brainy Background:

When you talk back and forth with your child about how things feel on their skin, you're introducing them to new words and feelings. This helps the child make new connections, which are the foundation for learning to use these words themselves in the future.
Testimonial From a CCR&R Agency:
"One of our Family Child Care Providers promoted the app and had all of her families download it. She called the next day and told us that several of her families told her that the app was great and that they had no idea something like this existed. It is definitely a great tool for parents to have. She said those parents were very appreciative of such a great resource." CCR&R, New York